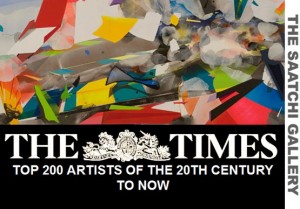 Welcome to The Times Top 200 Artists of the 20th Century to Now, created in association with the Saatchi Gallery.
Times readers and Saatchi Online visitors were asked to nominate their favourite artists working since 1900 from a list including some of the most influential painters, sculptors, photographers, video and installation artists of the period.
After over 1.4 million votes were cast, the leading 200 artists can be seen on Times Online and at Saatchi Online.
You can find out more about each artist by clicking on each individual artist's name on The Times online site.
ALSO AT OUR SITE IS ORIGINAL LIST