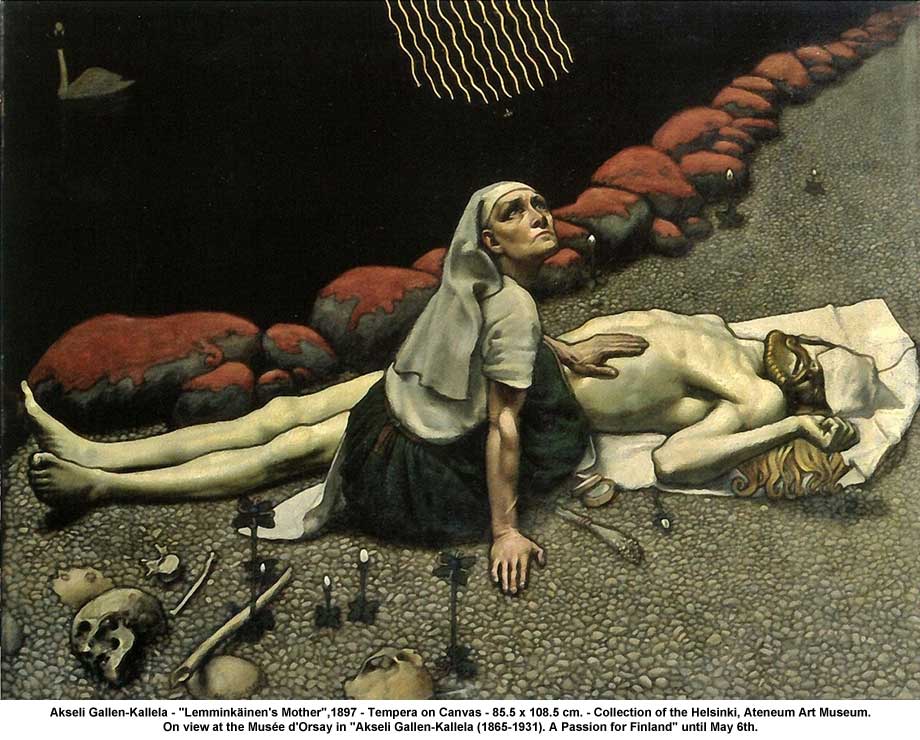 Paris.- The Musée d'Orsay is currently showing "Akseli Gallen-Kallela (1865-1931). A Passion for Finland", on view through May 6th. Although recognised as one of the most emblematic artists of the Finnish genius at the turn of the 19th and 20th centuries, Akseli Gallen-Kallela has never been the subject of a monographic exhibition in France. Yet he was closely linked with Paris: a pupil of the Académie Julian in the 1880s, he triumphed at the 1900 World Fair with the frescoes of the Finnish Pavillion with themes drawn from the epic Kalevala, he exhibited his work again in Paris in 1908 before embarking for Africa from which he returned with a flamboyant series of paintings and watercolours.
Naturalism, neo-romanticism, symbolism and expressionism are intermingled in his work, which also include decorative arts. The exhibition accounts for this brilliant career, showing together pieces usually conserved in prestigious Finnish institutions and private collections that constitute manifestos of an art too often reduced to the expression of a national identity. Gallen-Kallela was born Axel Waldemar Gallén in Pori, Finland in a Swedish-speaking family. His father Peter Gallén worked as police chief and lawyer. At the age of 11 he was sent to Helsinki to study at a grammar school, because his father opposed his ambition to become a painter. After his father's death in 1879, Gallen-Kallela attended drawing classes at the Finnish Art Society (1881-4) and studied privately under Adolf von Becker. In 1884 he moved to Paris, to study at the Académie Julian. In Paris he became friends with the Finnish painter Albert Edelfelt, the Norwegian painter Adam Dörnberger, and the Swedish writer August Strindberg. He married Mary Slöör in 1890. The couple had three children, Impi Marjatta, Kirsti and Jorma.
On their honeymoon to East Karelia, Gallen-Kallela started collecting material for his depictions of the Kalevala. This period is characterized by romantic paintings of the Kalevala, like the Aino triptych, and by several landscape paintings. In December 1894, Gallen-Kallela moved to Berlin to oversee the joint exhibition of his works with the works of Norwegian painter Edvard Munch. Here he became acquainted with the Symbolists. In March 1895, he received a telegram that his daughter Impi Marjatta had died from diphtheria. This would prove to be a turning point in his work. While his works had previously been romantic, after his daughter's death Gallen-Kallela painted more aggressive works like the 'Defense of the Sampo', 'Joukahainen's Revenge', and 'Lemminkäinen's Mother'. On his return from Germany, Gallen studied print-making and visited London to deepen his knowledge, and in 1898 studied fresco-painting in Italy. For the Paris World Fair in 1900, Gallen-Kallela painted frescoes for the Finnish Pavilion. In these frescoes, his political ideas became most apparent. One of the vipers in the fresco 'Ilmarinen Plowing the Field of Vipers' is wearing the Romanov crown, and the process of removing the vipers from the field was a clear reference to his wish for an independent Finland. The Paris Exposition secured Gallen-Kallela's stature as the leading Finnish artist. In 1901 he was commissioned to paint the fresco, 'Kullervo Goes to War', for the concert hall of the Helsinki Student's Union. Between 1901 and 1903 he painted the frescoes for the Jusélius Mausoleum in Pori, memorializing the 11-year-old daughter of the industrialist F.A. Jusélius. (The frescoes were soon damaged by damp, and were completely destroyed by fire in December 1931. Jusélius assigned the artist's son Jorma to repaint them from the original sketches. The reconstruction was completed just before Jorma's death in 1939.).
Gallen-Kallela officially finnicized his name to the more Finnish-sounding Akseli Gallen-Kallela in 1907. In 1909, Gallen-Kallela moved to Nairobi in Kenya with his family, and there he painted over 150 expressionist oil-paintings and bought many east African artefacts. But he returned to Finland after a couple of years, because he realized Finland was his main inspiration. Between 1911 and 1913 he designed and built a studio and house at Tarvaspää, about 10 km north of the centre of Helsinki. In 1918, Gallen-Kallela and his son Jorma took part in the fighting at the front of the Finnish Civil War. When the regent, General Mannerheim, later heard about this, he invited Gallen-Kallela to design the flags, official decorations and uniforms for the newly independent Finland. In 1919 he was appointed aide-de-camp to Mannerheim. From December 1923 to May 1926, Gallen-Kallela lived in the United States, where an exhibition of his work toured several cities and where he visited the Taos art-colony in New Mexico to study indigenous American art. In 1925 he began the illustrations for his "Great Kalevala". This was still unfinished when he died of pneumonia in Stockholm on 7 March 1931, while returning from a lecture in Copenhagen, Denmark. His studio and house at Tarvaspää was opened as the Gallen-Kallela Museum in 1961; it houses some of his works and research facilities on Gallen-Kallela himself.
The Musée d'Orsay was originally a railway station, Gare d'Orsay, constructed for the Chemin de Fer de Paris à Orléans and finished in time for the 1900 Exposition Universelle to the design of three architects: Lucien Magne, Émile Bénard and Victor Laloux. It was the terminus for the railways of southwestern France until 1939. By 1939 the station's short platforms had become unsuitable for the longer trains that had come to be used for mainline services. After 1939 it was used for suburban services and part of it became a mailing centre during World War II. It was then used as a set for several films, such as Kafka's The Trial adapted by Orson Welles , and as a haven for the Renaud-Barrault Theatre Company and for auctioneers, while the Hôtel Drouot was being rebuilt. In 1970, permission was granted to demolish the station but Jacques Duhamel, the then Minister for Cultural Affairs, ruled against plans to build a new hotel in its stead. The station was then put on the supplementary list of Historic Monuments and finally listed in 1978. The suggestion to turn the station into a museum came from the Directorate of the Museums of France. The idea was to build a museum which would bridge the gap between the Louvre and the National Museum of Modern Art at the George Pompidou Centre. This plan was accepted by George Pompidou and a study was commissioned in 1974. In 1978, a competition was organized to design the new museum. ACT Architecture, a team of three young architects (Pierre Colboc, Renaud Bardon and Jean-Paul Philippon, were awarded the contract which involved creating 20,000 sq. m. of new floorspace on four floors. The construction work was carried out by Bouygues. In 1981, the Italian architect, Gae Aulenti was chosen to design the interior including the internal arrangement, decoration, furniture and fittings of the museum. Finally in July 1986, the museum was ready to receive it's exhibits. It took 6 months to install the 2000 or so paintings, 600 sculptures and other works. The museum was officially opened in December 1986 by the then president of the Republique François Mitterand. One of the world's most-visited museums, the Musee d'Orsay houses the largest collection of painting, sculpture, and decorative objects produced between 1848-1914, showcasing many of the most remarkable works of the early modern era. Giving visitors a detailed and breathtaking look at the birth of modern painting, sculpture, design, and even photography, the Musee d'Orsay's permanent collection spans from neoclassicism and romanticism to impressionism, expressionism, and art nouveau design. Visit the museum's website at … http://www.musee-orsay.fr