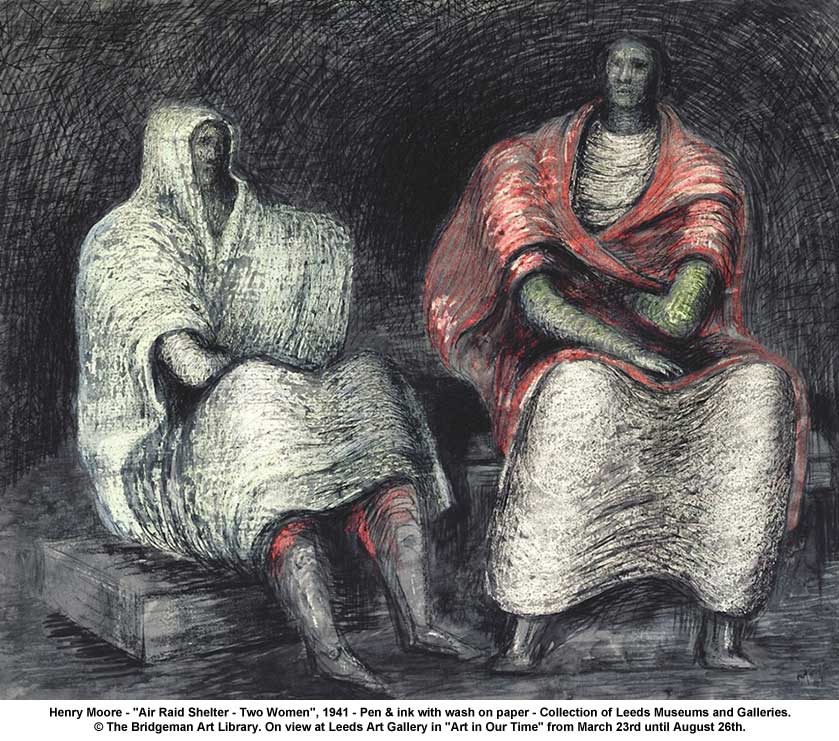 Leeds, England.- The organisation responsible for some of the most significant works of art in the collections of Leeds Museums & Galleries this year celebrates 100 years of collecting avant-garde, progressive and contemporary art, with a new exhibition, entitled "Art in Our Time". At the Leeds Art Gallery from March 23rd through August 26th, the exhibition brings together for the first time paintings and sculpture acquired by one of the UK's oldest regional supporting agencies for the visual arts, that have made such a significant contribution to what is recognised as one of the best collections of fine and decorative arts in Britain. The Leeds Art Fund centenary is sponsored by private bank Brown Shipley.
Dedicated to securing a rich and enduring legacy of art for the city, the Leeds Art Fund has acquired over 430 pieces of art for the collection, including work by Lowry, Warhol, Rodin and Turner, as well as works of historic fine and decorative art. Established in 1912 by ground-breaking educationalist, Vice-Chancellor of Leeds University and one of the foremost art collectors of his day, Sir Michael Sadler, and leading art critic, curator of the Gallery and activist Frank Rutter, the Fund was set up to acquire adventurous art for the city which had no other dedicated public funds available.
Consistently pioneering, Leeds Art Fund purchased early pieces of work by artists before they became recognised in the mainstream, including Barbara Hepworth and Henry Moore whose drawing "Air Raid Shelter. Two Women" was acquired in 1941 for just £15 and will be displayed as part of this exhibition. "Art in Our Time" will include Lucien Pissarro's painting, "Wells Farm Railway Bridge, Acton" and England's avant garde 'Futurist' R W Nevinson's "Searchlights" from 1914, two of the Fund's earliest acquisitions. Sculpture from what is now seen as the most comprehensive such collection outside London, will feature in a special display including  American artist Alexander Calder's "Chicago Black", Susan Hiller's sound installation "Monument" and "Flenite Relief" (1913) by Jacob Epstein, a recently supported acquisition from 2006. Across four different focussed displays each section of the exhibition highlights an aspect that defines 100 years of collecting activity, depicting the influence and contributions made by individual Gallery directors, working in partnership with the Fund. Ben Read, Chairman of Leeds Art Fund: "Thanks to the passion and foresight of visionaries Sadler and Rutter, followed by Hendy, Musgrave and all the Gallery Directors and Fund Trustees, we have a very special collection of art in Leeds which, one hundred years later, is a fascinating reflection of the character and tastes of individuals from the city, through a visual art lens.When it began in 1912, the Leeds Art Fund was a means to buy new, audacious and inspiring art at a time when there was little money available to the city for its art collections. Over the years, the Fund has continued to look to the future, bringing significant works to Leeds and looking to each new generation of artists for work that will be relevant for the next century.  Most recently we've been delighted to support the acquisition of work from Northern Art Prize winner Pavel Buchler and the specially commissioned 'This is General Gordon' by Bob & Roberta Smith." Installed at the entrance of Gallery for the duration of "Art in Our Time" will be "The Age of Bronze" by Auguste Rodin (1906), a key purchase supported by the Leeds Art Fund which was commissioned in 1906 by Leeds banking family, the Becketts, and bought after the Fund ran a successful campaign in 1995.
Leeds Art Gallery has been described as 'Probably the best collection of  twentieth century British art outside London' (John Russell Taylor, The Times). Leeds Art Gallery is a newly re-furbished creative and lively gallery in the heart of Leeds on The Headrow in Leeds' Cultural Quater. Offering displays of Leeds' Stunning collections as well as a dynamic programme of changing exhibition, Leeds Art Gallery is an innovative and exciting place to visit for people of all ages and tastes! At Leeds Art Gallery you can see a rich variety of art on display from Leeds' impressive collections. See nationally acclaimed prints, watercolours, paintings, sculptures, photography, and contemporary art. Wander between rooms and see well-known artists from the region, such as Henry Moore, Barbara Hepworth, Atkinson Grimshaw, Jacob Kramer, as well as work by a range of contemporary artists including Paula Rego, Bridget Riley, Georgina Starr, Tony Cragg, Antony Gormley and Francis Bacon. Recently benefiting from £1.5m investment, the gallery has had a major re-hang of its paintings and sculptures as well as adding a new multi media exhibition gallery, a new floor and exposing for the first time in many years, the beautifully decorated Victorian Tiled Hall which links the art gallery to Leeds Central Library. Break up a visit by to the gallery at the Tiled Hall café where a range of snacks and refreshments are on offer. Browse the gift shop or take part in regular events and activities, such as artist's talks, 'Art On The Mat' sessions for kids, demonstrations or seminars. Visit the museum's wesbite at … http://www.leeds.gov.uk/artgallery/Leeds_Art_Gallery