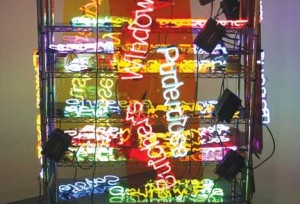 The going is tough: but stronger sales at all levels than last year Galleries have to work hard, but discerning collectors are buying good quality works
By Georgina Adam, Charlotte Burns, Gareth Harris and Brook S. Mason | From Art Basel Miami Beach daily edition, 5 Dec 09
Published online 5 Dec 09
After the bustle, glamour and razzmatazz of Art Basel Miami Beach's opening day, a picture is emerging of a newly sober, sedate fair that has, in the words of David Juda of Annely Juda Fine Art (C22), "grown up". "The froth and the partying have gone away," he said, and many observed that the city certainly felt quieter.
The pace of sales at the fair reflects this new sobriety. For most galleries, business is far better than it was last year, when "it was so dead, we all felt the world would collapse at that point, and that's an ­understatement", according to Steven O'Hara at Van de Weghe (B5). But collectors are taking their time. "We're talking a lot and I think sales will be completed right down to the wire this year," says ­Edwynn Houk (D37), "and that's a big difference."
Numbers have changed
As well as taking longer to complete, sales are happening at a different level. "The numbers have all changed, 500,000 is the new million," says 303 (F16) director Lisa Spellman, noting that finance and property figures have fluctuated even more.
At the fair, the most talked-about change is the re-jigged layout, which, with 20% more space, is far from popular. Some dealers complain collectors can't find them. "More than 20 clients who came to see me got lost, and some were quite upset," says Susanne Vielmetter (H24). But, counters Richard Gray (B7), "a mother-lode of collectors comes on the first day—one advantage of the new layout is that they spread out a bit."
"The bottom line, of course, is who comes to the fair, and the level of activity," said Angela Westwater of Sperone Westwater (C7). "More and more we are seeing the discerning collector return."
Victoria Gelfand of Gagosian (D14) reports that: "Sales have been to Americans predominantly. It probably breaks down 60% Americans, 40% Europeans."
"People have come with the confidence that was missing last year," said Paul Gray of Richard Gray, but business remains cautious. "There is trading up to a certain level, but it still feels fragile," says Marc Payot, of Hauser & Wirth (E8).
Young galleries: happy to be here
Price points may be low in Art Nova and Art Positions, and while some galleries are questioning how they'll cover costs, all bask in the fair's prestige. "With a top price of $6,500 it's almost impossible to make much money," says Erica Redling (E21), "but this fair is definitely worth doing for the exposure and to get the work into amazing collections." Ingleby Gallery (J39) was delighted to confirm an exhibition for its artist Peter Liversidge at the Corcoran Gallery of Art in Washington, DC, in 2011.
Prices in these sections range from €1,500 for miniature gold hooks (edition of 175, over 10 sold) by Karmelo Bermejo at Maisterravalbuena (D23), to $100,000 for a bronze sculpture of two skeletons, The Triumph of Painting, 2009, by Matthew Weinstein at Bruk (J18). "It's not like we are dealing with secondary market Warhols. We've covered our costs," says Eivind Furnesvik at Standard (Oslo) (J23), who sold two Oscar Tuazon sculptures at €11,000 each. He paid $18,700 for the stand. Latin American buyers were out in force, as were collectors from New York and Los Angeles, with a silkscreen piecpurchased by a Puerto Rican collector for €24,000 at Proyectos Monclova (E11).
Contemporary: steady and sober
Dealers who did their homework—and bought works in the mid-range—did the steadiest business. "Trading up to $250,000 is relatively easy, though works over $500,000 take longer," says Hauser & Wirth director Payot, who made several sales including Paul McCarthy's Drop Head/Bounce Head, 2009 ($150,000).
Showy installations and sculptures commanded the top prices, including James Cohan's elegant Roxy Paine tree, Containment 1, 2009 (G10), which went to Eli Broad on the third day of the fair, priced at $500,000, or the striking neon installation by Jason Rhoades, Nature's Privy Seal, 2003, at David Zwirner (F3), which sold for $450,000. Zwirner also sold a Neo Rauch painting, Mars, 2002, for $1.25m. Impulse buying is out, and the sober rhythm of sales is peppered with reserves, as collectors take their time to decide. "In a bull market, you wouldn't keep works for so long," says Jose Kuri of Mexico's Kurimanzutto (D13). "But we've sold well, so don't have anxiety about closing deals."
"You want to put your best foot forward," says Angela Westwater, "and we deliberately filled our booth with fewer artists, and presented their work in an educational way." Her top sale was the poised $450,000 painting Girl with Toy Bricks, 2007, by Liu Ye. More sales were expected: "There's always the fair after the fair, when collectors come to town," says Lisa Spellman of 303, who was thrilled with a prime position at the heart of the labyrinthine fair, and reported a raft of sales in the $200,000 range, including a 1991 scatter-art installation by Karen Kilimnik, I Don't Like Mondays…, which went to a US museum.
Blue-chip: comfortable with the classics
Among the big secondary market galleries, dealers report mixed results. While a $12m Picasso, L'Atelier, 1961-62, is on offer at Krugier (A19), most dealers are offering works below $1m, with many sales coming in at about half of that. Among the bigger deals was Warhol's Mao, 1972-74, tagged at $2.25m at Van de Weghe. "People are spending but we know we need to give bigger discounts, it's a question of adjusting to the situation," says Steven O'Hara. A widely admired solo show of Calder work at Helly Nahmad (B13) includes the artist's Plumeau Sioux (Maquette), 1969, which sold with an asking price of $1.4m. Krugier found a buyer for Yves Tanguy's 1938 Je te Retrouve Objet Trouvé at $800,000. Jeff Burch at PaceWildenstein (B8) reports more than ten sales, noting: "This year we didn't bring the highest priced works. If it's blue-chip and high quality you can do a deal," pointing to the sale of Flavin's neon Untitled (to Paddy), 1969, for $350,000.
And David Juda says: "We are selling at both the high and low ends, rather to my surprise. For example, I sold six Hockney prints at $23,000 to $38,000, as well as Gabo's elegant Linear Construction in Space No 2, around 1955, at just under $1m." A tanned John Berggruen (B19), sat at his desk, sold well: "I've seen the usual collectors," he says. "But you never know who is going to come around the corner, that's why I sit in my booth all day."