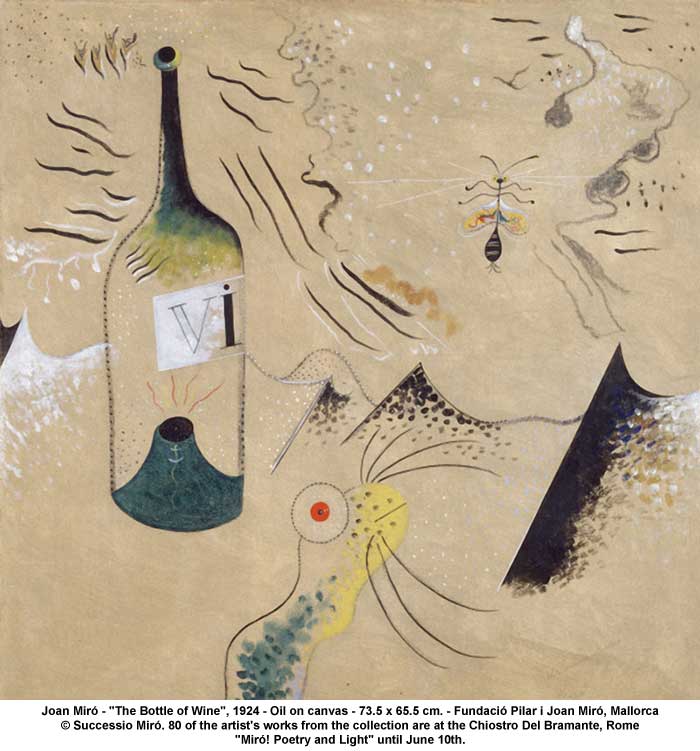 Rome.- The Chiostro Del Bramante (Bramante Cloisters) is proud to presents "Miró! Poetry and Light", on view through June 10th. It has been many years since Rome hosted an exhaustive exhibition of the works of Joan Miró (1893–1983), the great Catalan artist who left his unmistakable mark on the European avant-garde art movements. This exhibition features over 80 works never before shown in Italy, including 50 surprisingly beautiful, large-format oil paintings, but also terracotta sculptures, bronzes and watercolours. Masterpieces featured in the exhibition include the oil paintings "Woman in the Street" (1973) and "Untitled" (1978), bronzes such as "Woman" (1967) and sketches including that for the mural for Harkness Commons-Harvard University, all from the Fundació Pilar i Joan Miró in Palma de Mallorca, which owns many works by the artist and has granted them on extraordinary loan for their Italian debut. It is curated by María Luisa Lax Cacho, considered one of the world's leading experts on Miró, who has wished to illustrate the last stage of the production of the artist's long life, when he finally made one of his great dreams come true in Majorca in 1956: a huge space of his own in which to work, protected by the peace and silence that only nature could offer him. On occasion of the exhibition Miró's long-desired studio will be wholly reconstructed within the gallery space.
The exhibition is divided chronologically and thematically in the nine rooms of the itinerary, where visitors can admire the production of Joan Miró during the last 30 years of his life in Majorca. The story of the master is inextricably bound up with this island that, as his own words convey, represented poetry and light for him. From the outset of his career Miró maintained that the artist's objective should focus on large-scale projects, such as murals and other public art works, which also offered the opportunity to work together with architects and craftsmen, relegating easel paintings to a secondary role. Miró's public art projects, characterized by a combination of architecture and sculpture, derived in part from his deep admiration for Antoni Gaudí , are represented in the exhibition by works such as Sketch for the Mural of the Terrace Plaza Hotel in Cincinnati (1947) and Sketch for the Harkness Commons Graduate Center, Harvard University (1949–51), and the drawings for his Mural Project for the Union Nation Building in New York (1952-1953). Miró was in Palma from 1956 onwards, marking the beginning of an intense period of work that also led him to criticize his old sketches and paint over them. Among these paintings and drawings, the exhibition features the aforementioned oil painting from 1908, the earliest one by Miró to have survived, which the artist had covered during this purging. This untitled work thus became the recto of an oil painting made in 1960. This period is also represented by another untitled work, an oil and acrylic on canvas depicting a figure, a sort of doll, in which the disappearance of the artist's figurative style starts to become perceptible. During the 1960s and '70s the images and titles of his works continue to refer to his favourite themes, such as women, landscapes and birds. However, the iconography becomes abstract and the figures are amplified.
The coexistence of different styles and techniques gave rise to static works like Mosaic (1966) and others with confused brushstrokes, such as Poem (1966). It was also the period in which Miró set aside his easel and started painting on the floor, walking on his canvases and lying on them, creating sprays and drips, as in Untitled, also made in 1966, using oil, acrylic and black charcoal with red and blue marks. The 1970s witnessed a series of monochrome landscapes, such as Untitled, painted in 1973, and other substantially monochromatic paintings like the large-format canvases and another series of five later oil paintings, made in 1978 and displayed in a single room, which are blurred, visionary, minimalist, evanescent and animated, and illustrate Miró's predilection for the black of the American abstract expressionists and Oriental calligraphy. The artist's last years – when he painted with his fingers, applying colour with his fists and got to grips with matter painting, spreading the impasto onto plywood, cardboard and recycled materials – are illustrated by works such as Figure, Bird (1976), an oil on glass-paper, wood and nails. The works with ethereal, modulated blue backgrounds, of which several examples are featured in the exhibition, including the intense Untitled (1978), also date from this period of his production. Finally, it includes several sculptures that are the result of the experiments that the artist made during his lifetime with various materials and techniques, such as collage, object paintings and other works that, as the years progressed, were inspired by what he collected and that otherwise, as he himself wrote, "would be dead things or museum pieces". The exhibition includes bronzes such as Woman (1966) and The Tightrope Walker (1969), assemblages like Figures (after 1973), which combines painting and sculpture and is directly descended from the object paintings of the 1930s, and terracotta sculptures, like the mask (Untitled, 1981) and the ceramic head (Untitled, 1981) that belong to a series of pieces that Miró made together with Hans Spinner, in Saint-Paul-de-Vence.
Miró was born and grew up in Barcelona and attended La Llotja Academy of Fine Arts, where he studied under Modest Urgell and Josep Pascó. He started drawing when he was very young and his earliest oil painting to have survived is a landscape made in 1908. At 18 years old he exhibited his work at the 6th International Art Exhibition in Barcelona and the following year he started studying at the art college run by Francesc di Galí (1912–15), who taught him how to draw after having felt the model with his eyes closed. He subsequently studied at the Círcol Artístic de Sant Lluc, where he drew nudes, circus performers and street and port scenes. The style of his early works was influenced by Impressionism, Fauvism , Futurism and Cubism . However, his first trip to Paris, in 1920, brought him closer to Dadaism and, subsequently, Surrealism . In 1929 Miró married Pilar Juncosa in Palma de Mallorca, with whom he later had a daughter. The same period marked the start of his artistic experimentation, and he turned his hand to lithography, etching, sculpture and painting on tarpaper and glass. He increasingly sought the stimulating tranquillity of the countryside, and a place where he could freely dedicate himself to his work. Consequently, following the outbreak of the Spanish Civil War and a period of exile in France until 1942, he found refuge in Majorca, his mother's homeland. In 1954 Miró left his home in Barcelona, moving permanently to Son Abrines in 1956, where he had arranged for the construction of his longed-for studio, which he commissioned from his close friend, the architect Josep Lluís Sert (Barcelona, 1902–83). In order to conserve this much loved property, which was a quintessential creative place for him, in 1980 Miró donated part of it to the city of Palma, and in 1981 the Fundació Pilar i Joan Miró was established. In 1954 Miró also won the Grand Prize for Graphic Work at the Venice Biennale, and in 1958 the Guggenheim International Award. However, he had to wait until his old age and the fall of Franco's regime before he received any acknowledgements in Spain. Consequently, in 1978 he was awarded the Medalla d'Or de la Generalitat de Cataluna; in 1979 the University of Barcelona awarded him an honorary degree (Harvard University had already done so in 1968); in 1980 he received the Gold Medal of Fine Arts from King Juan Carlos of Spain; and in 1983 Spain paid homage to him, with an event organized jointly by the Municipality of Barcelona, the Generalitat de Cataluna, the Ministry of Culture and the Fundació Joan Miró of Barcelona. He died soon after in Majorca and was buried in Barcelona, in Montjuïc cemetery.
The Chiostro del Bramante is an extraordinary example of Renaissance architecture, designed by Donato Bramante (1444-1515), who after the fall of Ludovico Sforza had moved from Milan to Rome, to become the leading architect of Pope Julius II and a great rival of Michelangelo. The Chiostro, or cloister, is part of a building complex which also includes the adjacent church of Santa Maria della Pace, housing Raphael's famous Sybils. The atmosphere and light and shadow effects created by these beautiful Classical structures convey a warm feeling of harmony, thanks to Bramante's skill in combining stylistically different features with absolute naturalness so as to form a perfectly integrated whole. This is most evident in his superimposition of an architrave order to an order of arches, with the small columns of the upper order centrally aligned to the arches below, the arches on the ground floor regularly arranged, a combination of Ionic, Corinthian and composite columns, and upper pilasters matching the composite pillars above. The common rooms were situated on the ground floor and the living quarters on the first floor. These areas now host cultural events. The walls of the portico on the ground floor are adorned by late 15th-century funerary monuments. Almost all the lunettes here feature delicate frescoes with episodes from the Virgin's life. Visit the gallery's website at … http://chiostrodelbramante.it