School of the Art Institute of Chicago (SAIC) presents Touch and Go: Ray Yoshida and his Spheres of Influence
November 13, 2010–February 12, 2011
Opening reception:
November 12, 6:00–8:00 p.m.
Sullivan Galleries
33 South State Street, 7th floor
Chicago, IL 60603
Gallery hours: Tuesday–Saturday,
11:00 a.m.–6:00 p.m.
312.629.6635
Free admission
http://www.saic.edu/exhibitions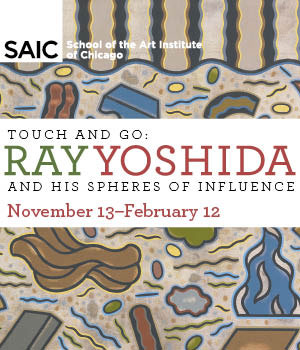 The School of the Art Institute of Chicago (SAIC) proudly presents the exhibition Touch and Go: Ray Yoshida and his Spheres of Influence. Over the course of a half-century, Yoshida (1930–2009, SAIC class of 1953) was one of the most vital American artistic figures to emerge from the Midwest. The 135-work Touch and Go exhibition is the largest and most extensive gathering of works ever devoted to Yoshida's influential career as a painter and collage maker. It is also the first large-scale show in Chicago since the artist's death in 2009, and will comprehensively examine his oeuvre and its relation to his life at SAIC as a professor, student, and colleague.
In collaboration with SAIC's Department of Exhibitions/Exhibition Studies and its Executive Director Mary Jane Jacob, the exhibition is guest curated by SAIC faculty member John Corbett and Jim Dempsey. The core of the exhibition is a retrospective of Yoshida's art featuring many works from the artist's estate and seldom-seen pieces culled from a range of private and institutional collections. On view are his rarely displayed early works on paper from Yoshida's pre-Imagist period, shortly after he obtained a BFA from SAIC in 1953. This exhibition also brings to light both Yoshida's early comic collages of the late 1960s, his beloved abstractions of the 1970s, as well as his figurative works from the 1980s, featured with his remarkable late oil paintings in which Yoshida introduced cars and cloud-like forms.
Alongside this chronological view, the show incorporates works by other artists, highlighting several major spheres of influence: Yoshida's teachers Kathleen Blackshear and Paul Wieghardt; his colleagues Ted Halkin, Miyoko Ito, and Thomas H. Kapsalis; his contemporaries, William Copley, Oyvind Fahlström, Peter Saul, and Karl Wirsum; and his students, as seen through works by Roger Brown, Jim Nutt, Christina Ramberg, Chris Ware, among others. Thus, this exhibition offers a chance to look at the give-and-take, the "touch and go," of this remarkable artist's generous and voracious exchange with the artists that surrounded him. This exhibition is supported in part by the Estate of Ray Yoshida, Ruth Horwich, Cleve Carney, and the Illinois Arts Council, a state agency.
About the School of the Art Institute of Chicago (SAIC)
A nationally accredited leader in educating artists, designers, and scholars since 1866, the School of the Art Institute of Chicago (SAIC) offers undergraduate, graduate, and post-baccalaureate programs to nearly 3,200 students from across the globe. Located in the heart of Chicago, SAIC has an educational philosophy that is built upon a multidisciplinary approach to art and design, giving students unparalleled opportunities to develop their creative and critical abilities, while working with renowned faculty who include many of the leading practitioners in their fields. SAIC's resources include the Art Institute of Chicago and its new Modern Wing; numerous special collections and programming venues provide students with exceptional exhibitions, screenings, lectures, and performances. For more information, please visit http://www.saic.edu.