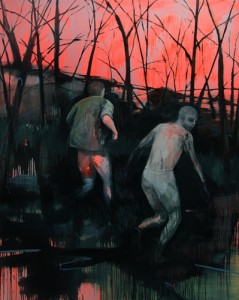 Romain Bernini
Despite Walls and Landscapes
Paintings
May 20 – July 3, 2010
Priska C. Juschka is pleased to present Romain Bernini's first solo exhibition in the United States. His beautifully haunting paintings reflect a state of entropy, Robert Smithson's idea of the ruins — a dystopian sociological landscape born of the debris of post modern societies, disillusioned with the merits of industrialism and the idea of a utopian state.
His paintings encompass a range of ambiguities, drawing their audience into a foreboding landscape, simultaneously hovering between the familiar and the unknown, the intentional and accidental, between action and paralysis. The viewer finds oneself at times alone in a post-apocalyptic environment or with other individuals, migrants and immigrants aimlessly or aggressively overcoming the artificial boundaries of contemporary civilizations.
Bernini's figureless landscapes become enigmatic reminders of what their inhabitants leave behind, tread and fear: a fire signals life, a bare wall, a barricade to be overcome, while his figurative paintings go beyond the visible appearance, showing strangers climbing fences and disappearing into the dense underbrush, pointing to an ongoing subversive struggle against the elements and odds of population regulation, conducted daily by anonymous and countless individuals around the globe.
Philosophically, Bernini questions the idealized l'idée de l'état (the idea of the state) creating a bow from Plato to Hegel and Heidegger, the absurdity of a constructed reality with demarcations, unnatural to the human existence. By nature originally nomadic, civilizations have struggled to keep their populations within a certain territory, preventing them from a physical or cultural exodus or averting other populations from penetrating their cultural or economical domain.
As entire peoples and populations become modern day migrants, traversing the plains with both economical and cultural aspirations, only bound by the political and factual borders of disintegrating societies attempting to curb their movements, the result is a 'push and pull' between these diverging forces wherein the observer becomes the impartial/partial entity caught in the moment of calm between two detonations ("…comme une respiration douce entre deux detonations" —Bernini).
Romain Bernini was born in Paris, France where he lives and works. He holds an MFA from the Sorbonne University in Paris, and is the recipient of the 2010 Prix de Rome (Rome Prize) at the Villa Medici, Académie de France in Rome, where he lives and works temporarily. His work has been shown in numerous groups and solo exhibitions in Europe. He has also received multiple awards including the Antoine Marin First Prize, Maison Marin (2008); the Artist Creation Grant, Museum of Contemporary Art in Val-de-Marne, France (2007); and he was named Artist of 2006 by the Société PAPREC in La Courneuye (Seine-Saint-Denis), France.
http://www.priskajuschkafineart.com/artists/Romain_Bernini/Romain_Bernini.php