RCA SECRET 2010: A RECORD 2,800 POSTCARDS DONATED BY LEADING INTERNATIONAL ARTISTS
Exhibition open: 12 & 14-19 November, 11am-6pm daily (18 November until 9pm). Closed 13 November.
Sale day: Saturday 20 November, 8am-6pm.
Free admission.
Royal College of Art, Kensington Gore, London SW7 2EU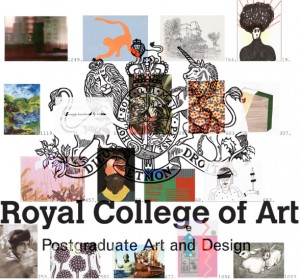 RCA Secret, the annual contemporary art exhibition and fundraising sale at the Royal College of Art has received 2,800 original postcard-sized artworks, the most the event has received in its 17-year history.
Each year, the RCA asks professional artists, designers and up-and-coming students from the College to make a piece of art on a postcard. This year's event includes work by 1,077 international artists and designers. Donations have been received from contemporary artists Grayson Perry, Sir Peter Blake, Tracey Emin, Olafur Eliasson, Jake Chapman, Yoko Ono, Sir Anthony Caro, John Baldessari and Yinka Shonibare, as well as from designers Ron Arad, Sir Terence Conran, Sir James Dyson, Ross Lovegrove, photographer David Bailey, filmmaker Mike Leigh and animator Nick Park plus fashion designers Sir Paul Smith, Manolo Blahnik and Stella McCartney.
What's the Secret? The cards are all exhibited anonymously for a week at the RCA and on-line and are then sold to the public with each postcard costing just £45, regardless of
whether it has been made by a famous name or a young art student. Each postcard is signed on the back, so collectors only discover the identity of the artist when they have made their purchase. All of the money raised from the sale goes to Royal College of Art Fine Art Student Award Fund which helps emerging art students at a formative stage in their careers. Since 1994 the event has raised over £1 million.
RCA Secret curator Wilhelmina Bunn said of this year's record contributions:
"We are enormously grateful to all of the artists who have donated postcards this year, making it the biggest event we have ever staged. As future funding for art education is likely to be reduced, it's encouraging that established artists and designers are willing to help support a new generation of students."
Would-be collectors will be able to view all the postcards in person at the RCA in London or on-line at www.rca.ac.uk/secret from 12 November. All postcards go up for sale for one day only on Saturday 20 November at the RCA. Postcards can only be bought on a first come, first served basis, with no sealed bids or reservations in advance. A maximum of four cards can be bought per person. There will also be a raffle for collectors to win a position in the first fifty places in the queue.
As well as being a fundraiser for the Fine Art students at the College, RCA Secret has a loyal following of supporters including regular collectors and art-lovers, some of whom have been visiting the show since it began in 1994. It is not only one of the most popular events at the RCA, but has now become an established date in the British art calendar.
RCA Secret 2010 is sponsored by Stewarts Law LLP.
Location: Royal College of Art, Kensington Gore, London SW7 2EU
Press view & photo-call: 11 November, 10am – 12 noon.
Viewing Days: 12 & 14 – 19 November, 11am – 6pm daily (late night opening until 9pm on 18 November). Closed on 13 November.
Sale Day: 20 November, from 8am – 6pm.
Admission: FREE
Public information: 020 7590 4186 or www.rca.ac.uk/secret
Tube: South Kensington/High Street Kensington
Buses: 9,10, 52, 360, 452
ENDS
For further information or images please contact Sue Bradburn, RCA Media Relations Manager on 020 7590 4114, e: [email protected]
The Royal College of Art
The Royal College of Art is the world's most influential postgraduate university of art and design, specialising in teaching and research and offering the degrees of MA, MPhil and PhD across the disciplines of fine art, applied art, design, communications and humanities. There are over 900 masters and doctoral students and more than a hundred professionals interacting with them – including scholars, leading art and design practitioners, along with specialists, advisors and distinguished visitors. Website: www.rca.ac.uk