Private View | Thursday 18 November | 6:30 – 8:30 pm
Anna Bjerger | A Perfect Throw
19 NOVEMBER – 23 DECEMBER 2010
Private View: Thursday 18 November 2010, 6:30-8:30pm
Paradise Row proudly presents A Perfect Throw, a new series of paintings by the Swedish painter, Anna Bjerger.
Bjerger paints images taken from old travel books, DIY and gardening books and photographic manuals, largely bought in charity shops and jumble sales. Dated and discarded, images denuded of their original functionality are strangely elevated through the transformative process of painting.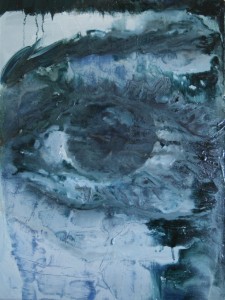 She picks out images that, for her, manifest "a boundless quality as well as compositional strength." That boundless quality stems, in part, from the mixture of anonymity and familiarity that characterizes the subjects of the original photographs and allows countless narratives to be sensed, imagined and projected; a day on the beech, a photo-shoot, a magic trick at a children's party…
Boundless and frozen. The nature of photography carries with it an implication of the ephemeral and painting, the illusion of permanence. Bjerger's paintings carry a soft and subtle tension between these two imagined opposites with them.
Above all however, the subject of the work is the experience and practice of painting itself. As Bjerger explains, "Through painting I am able to shift the hierarchy in the image and bring forward a different version of the recorded instant. The physicality of the paint, the variable structure of the surface and the focus on dimension serves to intensify the experience of looking."
For more information please visit: Anna Bjerger | A Perfect Throw
Paradise Row Gallery
74 Newman Street
London, W1T 1PH
Direction Map
Gallery hours:
Mon – Fri : 10 am – 6 pm
Thurs: 10 am – 8pm
Sat: 10am – 6pm
44 (0) 207 6133311
[email protected]