Portuguese Pavilion
54th International Art Exhibition
La Biennale di Venezia 2011
4 June–27 November 2011
10 am–6 pm
Closed on Mondays
Scenario
Francisco Tropa
Venue:
Fondaco Marcello,
Calle del Traghetto o Ca' Garzoni,
San Marco 3415 Venezia
www.dgartes.pt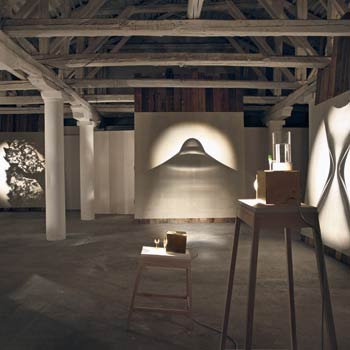 Commissioner:
Directorate-General for the Arts | Portuguese Secretariat of State for Culture
Curator:
Sérgio Mah
Francisco Tropa is Portugal's representative at the 54th International Art Exhibition – La Biennale di Venezia. The artist whose work occupies the Portuguese Pavilion at the upcoming Biennale was selected by Sérgio Mah, named curator of this official representation at the behest of the Directorate-General for the Arts of the Portuguese Secretariat of State for Culture, the institution responsible for organising and producing the national participation.
Since the beginning of his artistic career, the work of Francisco Tropa has favoured the practice of sculpture, often combined with the performing arts, drawing and technical imagery. Such inclinations are once again present in Scenario, a piece conceived specifically by the artist for the Fondaco Marcello, a sculptural scene in which objects and images seek another understanding of the nature of things.Scenario involves the construction of a space, the indication of a space in suspension, which suggests a huge possibility: to hold our attention, to summon up the experience of creation, to urge on the imagination, as a way to reach the truth of nature and consequently the origins of art making.
The various components of which it is composed include several projection devices. Conceived as small sculptures following the operational principles of magic lanterns, they project images onto stucco screens on wooden walls. These are images that shift between the recognisable and the indiscernible, between the expectation of reproducing something specific and the possibility of representing their projective and speculative potential, of recreating appearances and stimulating the generative power of the images.
Scenario distinguishes itself by the profusion of materials, processes, techniques and historical and cultural references (from the artisanal and popular to the erudite and scientific), like a space that mobilises an imagination without preset horizons in which all articulations and social interactions are potentially fertile. It is a space wherein imagery is taken as being a large theatre of memory—ample, involuntary, inventive and metamorphic—whose existence is regenerated in each sufficiently creative image to mobilise the viewer's perception via an unusual pattern of routes, associations and stimuli that potentially make him or her reach the end, or the beginning… Time and time again—the art of Nature, or simply the nature of Art.
Francisco Tropa was born in Lisbon in 1968. Tropa's work has earned widespread critical and institutional acclaim and he is now considered one of the most unique and idiosyncratic figures on the Portuguese art scene. Individual shows of his work have been put on at major national contemporary art centres such as the Serralves Museum (1998), the Modern Art Centre of the Calouste Gulbenkian Foundation (2003) and Culturgest (2006). He has also taken part in international landmark events, among them the São Paulo Biennial (1999), the Melbourne Biennial (1999), Manifesta (2000) and the 2003 Biennale di Venezia. In 2011, besides taking part in the 54th International Art Exhibition – La Biennale di Venezia, the artist will be present at the upcoming Istanbul Biennial.
Francisco Tropa currently lives and works in Lisbon.
Further information:
www.dgartes.pt