Performa 11
4th Edition of New Visual
Art Performance Biennial
November 1–21, 2011
New York City
Tickets on sale September 23rd
www.performa-arts.org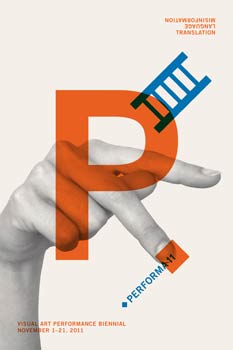 Mark your calendars!
Performa 11 Tickets On Sale September 23rd
Click here for details and to purchase tickets
This November, Performa will take New York City by storm with new performances by over 100 of the most exciting artists working today, organized by a team of 50 international curators, and presented in collaboration with a consortium of over 40 arts organizations. Performa 11 will ignite New York City with energy and ideas, featuring events in all disciplines, including visual art, music, dance, poetry, radio, comedy, architecture, and food.
The centerpiece of Performa 11 will be 12 innovative Performa Commissions by renowned artists from around the world, including Berlin and London-based artists Elmgreen & Dragset, Iran-born and New York-based filmmaker and artist Shirin Neshat, New York-based painter iona rozeal brown, Beirut artist and musician Tarek Atoui, Icelandic artist Ragnar Kjartansson, Canadian filmmaker Guy Maddin, British-born and Berlin-based artist Simon Fujiwara, Argentinian video artist Mika Rottenberg in collaboration with New York artist Jon Kessler, New York performance artist Liz Magic Laser, Singaporean video artist Ming Wong, Los Angeles-based artist Frances Stark, and Irish artistGerard Byrne.
Along with Performa's Commissions, the biennial will feature 6 Performa Premieres, over 20 Performa Projects, and special clusters of thematic programming, including a 52-hour Fluxus Weekend, events linked to the historic anchor of Russian Constructivism, Performa Radio at WNYC's Greene Space, Performa HA! at a comedy club in Times Square, an adjacent film programNot Funny, and a series of performances about the unexpected theme of talking sculptures.
New this year, the Performa Institute, situated in the Old School in Nolita, will provide an exciting new platform for research and education. Taught by Performa 11 artists, as well as curators and writers, the classrooms of the Performa Institute will also provide exhibition space for documentary exhibitions and installations. In the courtyard of the Performa Institute, the Performa Hub, designed by nOffice, will function as the biennial's headquarters, offering a venue for special performances, screenings, bookshop, lounge, and a visitor information center.
To program this year's biennial, Performa drew upon the rich cultural landscape of New York City by partnering with its most innovative arts and cultural organizations. Together the Performa Consortiumcelebrates the intellectual and creative history of New York City.
Performa Consortium members include: Abrons Arts Center; Anthology Film Archives; Americas Society; Art in General; Art Since the Summer of '69; Artists Institute; Artists Space; Austrian Cultural Forum; Bortolami Gallery; Bronx Museum; Calder Foundation; Columbia University; Danspace Project; E-Flux; El Museo del Barrio; Emily Harvey Foundation; Fales Library & Special Collections, New York University; Film Society of Lincoln Center; Forever & Today, Inc.; Franklin Furnace; Friends of the High Line; Garage Center for Contemporary Culture; Grey Art Gallery, New York University; Independent Curators International; International Studio & Curatorial Program; Issue Project Room; Japan Society; Kunstverein New York; Leo Koening Gallery; Light Industry; Marlborough Gallery; Museum of Arts and Design; Museum of Modern Art; Museum of the Moving Image; National Arts Club; New Museum; Nicole Klagsbrun Project Space; Participant Inc.; Performing Garage; Recess Activities, Inc.; Rhizome; Scaramouche Gallery; School of Visual Arts; SculptureCenter; Sharjah Art Foundation; Storefront for Art and Architecture; Swiss Institute; The Hole; The Kitchen; The Vera List Center for Art and Politics, The New School; Third Streaming; Times Square Alliance; White Box; White Columns; and Zabludowicz Collection.
Performa, a nonprofit multidisciplinary arts organization established by RoseLee Goldberg in 2004, is dedicated to exploring the critical role of live performance in the history of twentieth-century art and to encouraging new directions in performance for the twenty-first century. In 2005, Performa launched New York's first performance biennial, Performa 05, followed by Performa 07 (2007), and Performa 09 (2009).
Performa's website
Performa on Facebook
Performa on Twitter
Performa on Tumblr