Paris Photo Program
10–13 November 2011
Grand Palais
www.parisphoto.fr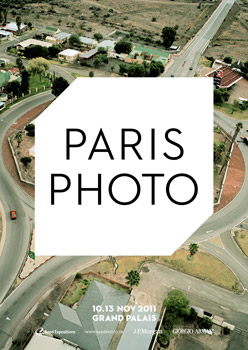 A SELECTION OF 135 GALLERIES AND PUBLISHERS WILL CELEBRATE THE PARIS PHOTO 15TH EDITION
Paris Photo is celebrating its 15th edition, from 10th to 13th November 2011, in the nave of the Grand Palais, the most beautiful backdrop that Paris could offer photography.
Dedicated to the 19th century, modernist and contemporary photography, Paris Photo will gather 135 exhibitors (galleries and publishers), including more than 65% international galleries, 23 countries and 57 new participants. This anniversary event gives a place of choice to renewal and discovery.
List of galleries and publishers
www.parisphoto.fr
SPOTLIGHT ON AFRICAN PHOTOGRAPHY
This year, pride of place goes to African photography from Bamako to Cape Town, thus unveiling the wealth of creation of the continent's photographers.
In addition to the presentation of works by African photographers from the Walther Collection, Paris Photo welcomes the participation of numerous artists from the continent and their galleries, whether based in Africa or elsewhere.
The fair will also pay tribute to the role played by the Rencontres de Bamako, which have been held every two years since 1994. A special exhibition this year, entitled "African Emerging Photography", will introduce visitors to the newest generation of African photographic artists.
A RICH PLATFORM OF CONFERENCES
With the Luma Foundation
Another innovation is the Paris Photo LIVE Platform, a locus for events and a discussion forum on contemporary issues in Photography. Under the leadership of art critic, exhibition and event curator and consultant Chantal Pontbriand, the concept for this year's Platform is "Mutations."
The Paris Photo Platform 2011 will offer a series of interviews with prominent figures as well as round-table discussions and performances, related to the field of photography and world events and phenomena. Every day, the Platform will be focusing on a major aspect of Mutations: Geography / Technology / Society and Media / The Body. How does photography today deal with these issues? How is the world today influenced by the image?
"Mutations, Perspectives on Photography", a major publication, will accompany the Platform. Co-published with Steidl, the 450 page book includes texts by over 60 authors from around the world and over 300 images. Artists, collectors, museum curators as well as art critics and theorists offer multiple and diverse points of views on the four main directions of Mutations. The Platform Book promises to be a leading reference work in the field of photography today.
PARIS, WORLD CAPITAL OF PHOTOGRAPHY IN NOVEMBER
Thanks to the 15-year old links established with the Parisian institutions, once again Paris Photo will propose to the invited collectors and professionals, private visits to the best exhibitions in Paris: "Faigenbaum, Photographies, Paris proche et lointain (Paris close and remote)" at the "Vie romantique Museum", "Lewis Hine" at the Henri Cartier Bresson Foundation, "Diane Arbus" at the Jeu de Paume Museum, "Martine Franck – Venus d'ailleurs (From elsewhere)" at the Maison Européenne de la Photographie…
Please click to download the complete programme "In Paris during Paris Photo"
Details
Dates: Thursday 10th–Sunday 13th November, 2011
Venue: Grand Palais, Avenue Winston-Churchill, 75008 Paris
Opening hours: Noon–8 pm / 9.30 pm Friday / 7 pm Sunday
Opening preview (by invitation only): Wednesday 9th November from 7 pm to 10 pm
Paris Photo : Tel: +33 (0) 1 47 56 64 74 – E-mail: [email protected]
Reed Expositions France: 52-54, Quai de Dion-Bouton, 92806 Puteaux Cedex – France