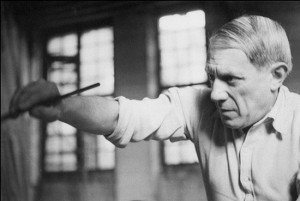 Two Public Lectures by the Art Historian T.J. Clark: OCA International Studio Resident November 2010
During his participation in OCA's International Studio Programme, art historian and author T.J. Clark will present two public lectures on Pablo Picasso. The first lecture will address questions about modern art's relation to the century in which Picasso lived and worked. In the second lecture Clark will discuss Picasso's painting Guernica (1937) as an archetype of 'political' art. These are questions that have been central to T.J. Clark's upcoming book Picasso and Truth: From Cubism to Guernica.
Picasso in his Century
Friday, 12 November 2010 / 19:00 at OCA Project Space
Art historian T.J. Clark looks at Picasso's strange relation to the century he lived in: his intense self-absorption and privacy, his lack of trust in anything beyond the world of bodily contact and sexual pleasure, and (paradoxically) the ability of his art to speak, at key moments, to the nature of twentieth-century experience. And behind the 'Picasso question' looms the more general one of modern art's relation to history — its largely 'regressive' or retrogressive attitude to modernity, and its lack of a coherent 'politics'.
Picasso's Guernica Revisited
Thrusday, 18 November 2010 / 19:00 at OCA Project Space
T.J. Clark discusses Picasso's painting Guernica (1937), in an effort to understand how a work of such enduring political resonance emerged from Picasso's deeply private and 'autobiographical' artistic universe. The lecture looks at the step-by-step making of Guernica, taking advantage of the set of photographs taken by Dora Maar as the painting progressed. Two central concerns of the lecture are Picasso's gradual progress toward a conception of space appropriate to the new character of modern warfare, and the difficult issue of male and female roles in a moment of panic and pain.
About the Speaker
T.J. Clark (b.1943, Bristol, UK, lives and works in London, UK) has been a Professor of Art History at UC Berkeley in California. His writings on art history throughout the 1970s and 80s single-handedly redefined the history of modernism internationally. His books include The Absolute Bourgeois: Artists and Politics in France, 1848-51 and Image of the People: Gustave Courbet and the 1848 Revolution (both 1973); The Painting of Modern Life: Paris in the Art of Manet and his Followers (1985); Farewell to an Idea: Episodes from a History of Modernism (1999); Afflicted Powers: Capital and Spectacle in a New Age of War (co-written with Iain Boal, Joseph Matthews and Michael Watts under the name Retort, 2005) and The Sight of Death: An Experiment in Art Writing (2006). In a world increasingly invaded by regimes of high-speed visualisation, Clark has described his art history as 'more and more directed to keeping alive — and trying t o describe more fully — past paradigms of complexity and depth in visual communication'.
About OCA's International Studio Programme
The International Studio Programme Oslo is available for international artists and curators by invitation for a stay from two weeks up to six months, independently or in connection with research in Norway. The programme comprises three studios located in Grünerløkka, Oslo.
Office for Contemporary Art Norway
The Office for Contemporary Art Norway is a foundation created by The Norwegian Ministry of Culture and The Norwegian Ministry of Foreign Affairs in autumn 2001. The main aim of the Office for Contemporary Art Norway is to develop collaborations in contemporary art between Norway and the international art scene. OCA aims to become a key contributor to the discourses of contemporary art.
Office for Contemporary Art Norway
Nedregate 7
0551 Oslo Norway