Annapolis Gallery's Fine Contemporary Artwork Attracts Buyers
Annapolis, MD—Myers Contemporary, an Annapolis-based gallery of contemporary artwork experienced a successful show during their second year as exhibitors in the prominent Red Dot Art Fair which is part of Art Basel Miami. Myers Contemporary was one of over 30 exhibitors in the Red Dot Art Fair and held an impressive display of contemporary artwork by select recognized and emerging artists whose work represents distinct facets of the contemporary art scene.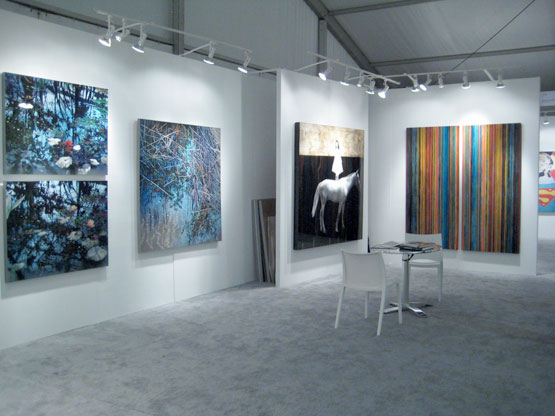 During the four day event there were over 8,000 attendees browsing and buying artwork from the various art fairs surrounding Red Dot Miami. Within the first twenty minutes on opening day of Red Dot Myers Contemporary sold a black and white six-foot by six-foot Anke Schofield mixed media piece called "Horse Ride." Mark Myers, president and owner of Myers Contemporary describes the photo collage which incorporated the use of wax, tar, acrylic, and resins, "The the striking scale, unexpected image [of a girl standing on a horse] and quality of execution are what gave the piece such impact."
In total, Myers Contemporary sold fifteen pieces of artwork at the 2009 Red Dot Art Fair, six of which went to a gallery in Colorado. Mark Myers comments, "Red Dot is an art fair that draws everyone from art critics to gallery buyers to art consultants and the range of artwork on exhibit tends to have something for everyone. We talked with a lot of art enthusiasts and we're very pleased with the sales we generated at Red Dot; it was a nice way to enter 2010."
Joanne Mattera, editor of her own Joanne Mattera Art Blog called out a George Dunbar contemporary piece on display with Myers Contemporary in her review of Red Dot. George Dunbar's work in the exhibit was among pieces by David Kessler, Anke Schofield, and Lisa Nankivil, all artists that Myers Contemporary represents.
Myers Contemporary represents over 30 artists in its Annapolis gallery with work from artists around the world and showcases sculptures, paintings, photography, drawings, and multiple other formats of contemporary and fine artwork. The gallery is uniquely qualified to bring together paintings, sculptures, and exclusive art productions that portray various interpretations of contemporary art.
Myers Contemporary is planning to exhibit at Art Chicago April 30-May 3 to present the work of talented artists to an international audience seeking contemporary and modern art.
Media Contact
Mark Myers
Myers Contemporary
1851 McGuckian Street
Annapolis, MD 21401
410.263.2554
[email protected]