Pierre Huyghe
Works from the collection
22 January 2011–1 May 2011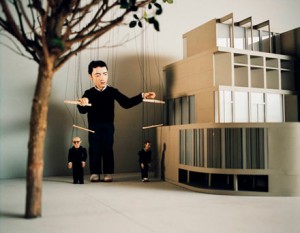 Kunstmuseum Basel, Museum für Gegenwartskunst
St. Alban-Rheinweg 60
CH-4010 Basel
www.kunstmuseumbasel.ch
The Museum für Gegenwartskunst is dedicating this year's focus of works from the collection to the video artist Pierre Huyghe (b. Paris 1962). In three rooms, we will show video installations from the Öffentliche Kunstsammlung, acquired between 2004 and 2007.
Huyghe's works explore the tensions between different planes of reality and time. He employs the classical vocabulary of film in order to examine the medium's narrative and temporal structures. By drawing attention to sites of fracture, ellipses, and cuts, however, he at once demystifies all cinematic illusion and reveals the cinema's productive mechanisms.
An illustrative example is the work Atlantic, created in 1997, which consists of a simultaneous projection of three versions of E. A. Dupont's 1929 Atlantic, a movie about the sinking of the Titanic. Dubbing had not yet been invented in the early days of sound film, and so Atlantic was shot separately in English, German, and French, on the same set but with different casts. Because individual scenes are of different length in the three versions, their juxtaposition creates constant forward and backward shifts between them: as one screen still shows unsuspecting passengers dancing, the dramatic demise of the ship is already in full swing on another screen.
The video work L'Ellipse, created in 1998, likewise consists of three videos projected in juxtaposition. The two projections on the sides show scenes from Wim Wenders's An American Friend (1977) separated by "jump cuts." Huyghe then fills the narrative blank between these two scenes by having the original movie's lead actor, Bruno Ganz, reappear twenty years later to reenact the "missing" sequence.
Another video work is This is Not a Time for Dreaming, the result of a project realized in 2004. Huyghe was invited to produce a work about the only building by Le Corbusier in North America, the Carpenter Center for the Visual Arts at Harvard University. He staged a satirical-ironic puppet show in which all actors—including the curators, the university's dean, Le Corbusier, and Huyghe himself—appear together in the present.