Museum of Contemporary
Art (MCA), Chicago
Jim Nutt
Coming into Character
January 29–May 29, 2011
Seeing is a Kind of Thinking
A Jim Nutt Companion
January 29–May 29, 2011
Museum of Contemporary Art (MCA), Chicago
220 East Chicago Avenue
Chicago, IL 60611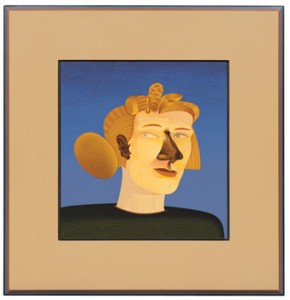 Known for his fantastical invention, biting wit, and distorted figuration, renowned American painter Jim Nutt has focused on portraits of female heads for the past two decades. These imaginary portraits are similar in some ways, yet each is distinctly individual. Jim Nutt: Coming Into Character is a retrospective that emphasizes the development of these important paintings through their precedents in his own work, on view at the Museum of Contemporary Art (MCA), Chicago, from January 29 to May 29, 2011. Acknowledging the groundswell of interest in this unique Chicago artist's work, this is the first major presentation of Nutt in over a decade. The exhibition is organized by MCA Curator Lynne Warren and presents 70 carefully selected paintings and drawings to trace the artist's achievements.
Jim Nutt's (b.1938) career spans forty-five years, having emerged in the mid-1960s in Chicago as the chief instigator of the irreverent and legendary "Hairy Who" group, now often considered part of Imagism. These artists were drawn to bizarre imagery, vulgar subject matter, and a palette of rancid colors in jarring combinations. Inspired by popular culture, especially comic books, advertisements, and street signs, Nutt's art also explored the formal qualities of historical works of art: Northern European portraiture of the 15th and 16th century; Colonial American painting; the color and line explorations of Henri Matisse and Joan Miro; and the quirky individualism of artists such as John Graham, Max Ernst, Arshille Gorky, and H.C. Westermann.
The second period of his work began in the mid-1980s and continues today, consisting of one motif: portrait-like images of imaginary women. Since 1990, he has focused exclusively on rendering female heads with radically distorted features in sparse line drawings and richly detailed paintings accompanied by customized frames. Working with tiny brushes and thinned acrylic paint, Nutt often spends a year creating a single portrait, which are small and meant to be viewed up close. They are seductive with subtle, shifting colors, yet present sharp edges and hard surfaces. The faces are grotesque, yet their formal and refined presentation allows the viewer to find great beauty in what at first may appear repulsive.
The portraits are traced throughout Jim Nutt: Coming Into Character, beginning with his early work that most commonly featured odd interactions between distorted male and female figures, often painted on the reverse surface of Plexiglas. Nutt also explored the individual female figure early on in his career, with works such as the drawing Wiggly Woman (1966) and the painting Good-bye, Have a Nice Journey!! (1973).
Although the imaginary portraits are similar in format, each work is unique and intriguing with rich opportunities to examine Nutt's rare technique weighing and assessing forms, colors, patterns, and textures, as they form into an image. Over the course of more than four decades, Nutt has constantly refined his line and use of color; rethought and perfected his compositions; and paid attention to how the work is framed. The frames for the portrait bust series are painted as carefully as the faces they surround.
RELATED EXHIBITION
Seeing Is a Kind of Thinking: A Jim Nutt Companion
January 29–May 29, 2011
Jim Nutt: Coming Into Character is accompanied by the exhibition Seeing Is a Kind of Thinking: A Jim Nutt Companion, organized by MCA Pamela Alper Associate Curator Julie Rodrigues Widholm. Further solidifying Nutt's stature as an internationally significant artist, Jim Nutt: Coming Into Character provides an excellent opportunity to expand the artistic framework in which to consider his work beyond Chicago's Hairy Who. While Coming Into Character offers a focused look at Nutt's portrait busts of the last twenty years, revealing precedents in Nutt's early works, this companion exhibition takes a much broader approach, delving into the rich and varied visual and cultural universe that has informed Nutt's work and that of his peers. The exhibition also includes work by a younger generation of artists, such as Carroll Dunham, Mike Kelley, Eric Lebofsky, and Sue Williams, who have been directly inspired by Nutt.
Based on the MCA Collection, Seeing Is a Kind of Thinking includes work by more than 50 contemporary artists that resonates—either formally or through its subject matter—with aspects of Nutt's work. The exhibition is organized into four thematic sections that examine how artists look to comics, folk art and non-Western art as source material; representations of surrealist psycho-sexual dramas; the traditional portrait bust genre; and an architectural approach to materials that oscillates between 2-D drawings and 3-D forms.
Nutt's voracious appetite for art history, surrealism, non-Western artifacts, baroque opera, new wave cinema, and comics provides the inspiration for the exhibition's dense hanging. The result is a visual encyclopedia that suggests sources beyond contemporary art to show how artists today use all manner of visual and cultural material for inspiration, and in dialogue with other forms, to create their own dynamic visual language.
Artists represented in the exhibition include: Tomma Abts, Francis Bacon, Enrico Baj, Don Baum, Hans Bellmer, Phyllis Bramson, Victor Brauner, Chuck Close, George Condo, William Copley, Aaron Curry, Dominick Di Meo, Carroll Dunham, Oyvind Fahlstrom, James Falconer, Tony Fitzpatrick, John Graham, Art Green, Leon Golub, Theodore Halkin, Miyoko Ito, Rashid Johnson, Mike Kelley, Jeff Koons, Wifredo Lam, Eric Lebofsky, Fernand Leger, Richard Lindner, Robert Lostutter, Jim Lutes, Rene Magritte, Margherita Manzelli, Kerry James Marshall, Matta, Wangechi Mutu, Bruce Nauman, Rachel Niffenegger, Gladys Nilsson, Paul Nudd, Jim Nutt, Ed Paschke, Lari Pittman, Christina Ramberg, Martin Ramirez, Richard Rezac, Suellen Rocca, Kay Rosen, Peter Saul, Cindy Sherman, Diane Simpson, Steven Urry, Chris Ware, Andy Warhol, H. C. Westermann, Karl Wirsum, Frances Whitehead, Sue Williams, Scottie Wilson, Joseph Yoakum, Ray Yoshida, and Claire Zeisler.
EXHIBITION CATALOGUE
The exhibition catalogue Jim Nutt: Coming Into Character is the first major publication on the artist in almost two decades, as well as the first to concentrate on Nutt's portraits. Detailing seventy of the artist's works from 1966 to the present, this important retrospective examines Nutt's paintings and drawings through their precedents in his work and demonstrates the artist's consistent and inimitable contributions to the art world. The catalogue features essays by MCA Curator Lynne Warren, along with contributions by Jennifer R. Gross, Seymour H. Knox, Jr., Curator of Modern and Contemporary Art at the Yale University Art Gallery, and Alexi Worth, a painter who lives and works in Brooklyn, New York.
GALLERY TALKS
Rebecca Zorach on Renaissance Portraits and Jim Nutt's Paintings of Women
Saturday, February 26, 2011, 11 am, Free with museum admission
Art historian Rebecca Zorach connects Jim Nutt's paintings of fictional female characters with approaches to portraiture popular during the Renaissance. Rebecca Zorach is Associate Professor of Art History at the University of Chicago. Her interests include late medieval, Renaissance, and Baroque art, feminist art and feminist theory, the late 1960s in Chicago, Thai art, and contemporary activist art. She is the author of Blood, Milk, Ink, Gold: Abundance and Excess in the French Renaissance and the co-editor of Embodied Utopias: Gender, Social Change, and the Modern Metropolis and The Idol in the Age of Art: Objects, Devotions, and the Early Modern World.
Eric Lebofsky
Saturday, March 19, 2011, 11 am, MCA Theater, Free with museum admission
Artist Eric Lebofsky discusses his work and the works of other artists in the exhibition Seeing Is a Kind of Thinking: A Jim Nutt Companion.
Lynne Warren on Jim Nutt's Visual World
Saturday, May 21, 2011, 11 am, Free with museum admission
In this gallery walk-through, MCA Curator Lynne Warren delves into the rich and varied visual and cultural universe that has informed Jim Nutt's work. Warren also discusses the work of Chicago artists who developed alongside Nutt and a younger generation of artists inspired by his work.
COFFEE AND ART WORKSHOP
Coffee and Art: Coming Into Character
Saturday, April 2, 2011, 10 am – noon, Kanter Meeting Center
The early paintings of Chicago-based artist Jim Nutt place figures in a theatrical setting, while in his later fictional portraits, characters seem to exist in a different space—that of the portrait studio. Participants can explore Nutt's works and what it means to "come into character" with Matthew Goulish, teacher, writer, and member of the Every house has a door performance group.
CURATOR'S TOURS
Jim Nutt: Coming Into Character
Tuesday, February 22, 2011, noon
Tour is led by MCA Curator and exhibition organizer Lynne Warren.
Seeing Is a Kind of Thinking: A Jim Nutt Companion
Tuesday, April 26, 2011, noon
Tour is led by MCA Pamela Alper Associate Curator Julie Rodrigues Widholm.
FAMILY DAY
Coming Into Character
Saturday, March 12, 2010, 11 am to 3 pm, Admission is free for families with children 12 and under. Activities are appropriate for all ages unless otherwise noted.
Inspired by the artist Jim Nutt, families can invent imaginary characters and create portraits and stories to tell others about them.
Generous support for Jim Nutt: Coming Into Character is provided by The Henry Luce Foundation. Additional support is provided by Mary Ittelson and Rick Tuttle, Liz and Eric Lefkofsky, the Henry and Gilda Buchbinder Family, Marilyn and Larry Fields, and Cleve E. Carney. Air transportation is provided by American Airlines, the Official Airline of the Museum of Contemporary Art.
The Museum of Contemporary Art, Chicago (MCA) is a nonprofit, tax-exempt organization accredited by the American Association of Museums. The MCA is generously supported by its Board of Trustees, individual and corporate members, private and corporate foundations, and government agencies including the Illinois Arts Council, a state agency, and the City of Chicago Department of Cultural Affairs. The Chicago Park District generously supports MCA programs. Air transportation is provided by American Airlines, the Official Airline of the Museum of Contemporary Art. The MCA is located at 220 E. Chicago Avenue, one block east of Michigan Avenue. The museum and sculpture garden are open Wednesday through Sunday from 10 am to 5 pm and Tuesday from 10 am to 8 pm. The museum is closed on Monday. Enjoy free admission every Tuesday. Children 12 years of age and under, MCA members, and members of the military are admitted free. Information about MCA exhibitions, programs, and special events is available on the MCA website at mcachicago.org or by phone at 312.280.2660.