CRAIGIE HORSFIELD
Schering en inslag / Confluence and Consequence
08.10.10  –  16.01.11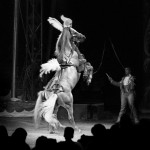 In the autumn the M HKA will be holding a solo exhibition by Craigie Horsfield (Cambridge, England
1949), one of the leading artists in the field of social projects in contemporary art as we know them
today. His work has opened significant conceptions in the thinking of community and the
individual within much of the practice of such projects.
Horsfield works across media in video, photography, sound, drawing, performance and installation
used as instruments in the radical rethinking of notions of relation, and of slow time and attention,
which have been widely influential. Relation in this work concerns, first of all, the idea that being is
generated 'between' individuals—simply that we bring each other into being—and secondly, that the
taking place of 'being' is within each encounter, each meeting, each conversation. This is the sphere
of relation as telling, and therefore of art.
The social projects, installations, photographs, films, prints and sound works are very closely linked
and evolve out of each other. Whichever medium Horsfield works in, he is concerned above all with
relation as both 'being' and 'telling'.
Horsfield's work has taken on a significantly new dimension with the jacquard tapestries, which the
artist has been making over the last three years. Made in close cooperation with Flanders Tapestries,
these large‐scale weavings have come to be an important part of the regeneration of the thinking of
tapestry in contemporary art and of a renaissance of Flemish tapestry at large.
The exhibition includes key tapestries in the development of this new thinking: Above the Road East
toward Taibique, El Hierro. 15 minutes. February 2002 (2008), an impressive cloud‐filled sky—the two
dates indicate the time difference between making the film on which it is based and making the
tapestry; The Tree at the Edge of the World, Sabinar. La Dehesa, El Hierro. 38 minutes, just before
dark, March 2002 (2008); and Zoo, Oxford. January 1990 (2008), a diptych of two rhinoceros on
panels totalling 12 metres.
Especially for this exhibition Horsfield has also created new tapestries. Several works are based on
pictures made at the Moscow Circus during the Barcelona Conversation (1996), and others present a
preview of his most recent and ambitious project to date made with Moonbow the Neapolitan
production group he helped to found: the Naples Conversation (2007‐2010). These tapestries feature
a mass of people at a concert in a community centre in Naples via Gianturco, Naples. September,
2008 (2010), the Easter procession in Sorrento Arciconfraternita di Santa Monica Chiesa della SS.
Annunziata, via Fuoro. 2010 (2010) , fireworks over the bay of Naples North West Towards the Bay of
Naples from via Partenope. September 2008 (2010) , with two details taken from it, which cover the
entire wall of the round room at the M HKA. In combination with these tapestries, Horsfield is also
showing prints.
Just like his other work, Horsfield's tapestries are always about the subject of time, an important
theme in his work, and particularly the concept of slow time. The tapestries, the production of which
extends over a long period, encompass a whole time span. But these tapestries also bring together
past and present, being both a decorative medium that has a very long history and also the product
of a highly technological process. We see in them an expression of the notion of relation, about
which Horsfield wrote in his 2006 publication Relation: "No self is conceivable in isolation and
consciousness is born in relation." The tapestries, whose coloured threads are meaningless
individually, but which together, in confluence, form an image, can be seen as a metaphor for a social
world; but not only this – Horsfield does not consider them to be simply his own work, but the result
of intensive cooperation between himself, the print designer, the weaving designer as well as the
weavers at the weaving factory themselves.
There will also be an installation of the Antwerp Soundwork 6.1, which is structured with 24
loudspeakers throughout the exhibition space. As the work seems to decelerate time, again slow
time is an important element. Horsfield has made the piece for Antwerp in cooperation with the
sound engineer and composer Reinier Rietveld, with whom the artist has worked for 20 years. They
have created numerous sound works in the past, including installations for the Ravenstein Gallery, as
part of Brussels 2000, the Vleeshal in Middelburg (2002), Documenta XI (2002), and for the MCA
Sydney (2007).
Craigie Horsfield regularly participates in international exhibitions in major institutions and has
recently completed a number of solo projects, among others, in Jeu de Paume (Paris, 2006), Centro
de Arte Moderna – Fundacao Calouste Gulbenkian (Lisbon, 2006), Museum of Contemporary Art
(Sydney, 2007), Museo di Capodimonte, (Naples, 2008); he was invited to documenta X and XI
(Kassel, 1998, 2002) and the Whitney Biennial (New York, 2004). His work is in numerous museum
collections in Europe and America (including the Whitney Museum, New York; Walker Art Center,
Minneapolis; Tate Gallery, London; Museum of Modern Art, San Francisco and Museum Boijmans
van Beuningen, Rotterdam) and in many private collections worldwide. In 1996 Craigie Horsfield was
nominated for the Turner Prize. It is the first time that an exhibition of this size on Craigie Horsfield
will be shown in Belgium.
Reinier Rietveld is a sound engineer and musician.
‐‐‐
The exhibition is accompanied by a publication, with 100 images from the tapestry work, the
majority of which are new and have never been published. The book will be published by Ludion.
CRAIGIE HORSFIELD Schering en inslag / Confluence and consequence in collaboration with Roland
Dekeukelaere, Christian Dekeukelaere, Marcos Ludueña‐Segre, Moonbow, Reinier Rietveld, André
Van Wassenhove.
In a collaboration between the University Centre Saint‐Ignatius Antwerp (UCSIA), the Royal Academy
of Fine Arts Antwerp, Saint‐Lucas Antwerp, the University of Antwerp and the M HKA, a number of
lectures and workshops will be organised on Craigie Horsfield and the themes of his work:
Wed. 20.10.2010 18:00‐20:00
Art as Relation and Art's Social Working
Panel discussion between Craigie Horsfield, architect Paul Robbrecht, art sociologist Pascal Gielen
and art historian Hans De Wolf on the importance and the limitations of social artistic theory and
practice.
Location: Promotiezaal Grauwzusters, Stadscampus Universiteit Antwerpen, Lange Sint‐Annastraat 7,
Antwerpen
Wed. 08.12.2010 20:30‐22:00
The Work of Art's Working, the Conception of Art as a Verb
In relation to his exhibition in M HKA Craigie Horsfield will give a lecture on his work and his artistic
approach. There will be an opportunity to ask questions afterwards.
Location: Cinema Zuid, Lakenstraat 14, Antwerpen
The lectures are free of charge, but registration is required via UCSIA, FAO Marijke Celis,
[email protected], T 03 265 49 60
Wed. 20.10 and 27.10.2010 from 14:00‐17:00
Wed. 01.12 and 08.12.2010 from 14:00‐17:00
Private workshop in 4 sessions by Craigie Horsfield with 25 master students of the university colleges
for visual arts, Saint‐Lucas Antwerp (Karel de Grote university college) the Royal Academy of Fine Arts
Antwerp (Artesis university college)
M HKA
Museum of Contemporary Art Antwerp
Leuvenstraat 32, 2000 Antwerp
T. + 32 (0)3 260 99 99
[email protected]
www.muhka.be
Press contacts
Kathleen Weyts, T 0032 3 260 80 97, [email protected]
Gerrie Soetaert, T 0032 475 47 98 69, [email protected]
Rhiannon Pickles, T 0031 6 15 82 12 02, [email protected]
Opening hours museum
TUE‐WED & FRI‐SUN
11 am‐6 pm
THU 11 am‐9 pm
Entrance
€6 / €4 (‐26/60+/groups of 10 or more/the physically challenged) / €1 (13+/‐26)/ free entrance (‐
13/ICOM)
€20 MuseumCard: provides unlimited admission to the permanent collection of Antwerp's museums
and monumental churches for 48 hours. The price includes the Lijnkaart, for use on public transport.
Information and reservations
MON‐FRI 9 am‐12 pm and 1 pm‐5 pm
T. + 32 (0)3 260 99 90
[email protected]
www.muhka.be
Opening hours library
TUE‐FRI 11 am‐5 pm
T + 32 (0)3 260 99 98
Opening hours M HKAFE
Free entrance to M HKAFE and 5th & 6th floor
> TUE ‐WED & FRI‐SUN
11 am‐6 pm
THU 11 am‐9 pm
Public transport
From Antwerp‐Berchem train station: tram 8 or bus 30
From Antwerp‐Central train station: bus 23
From Antwerp‐Zuid train station: tram 4 or 24
By car
www.antwerken.be
free parking space at the square in front of the museum