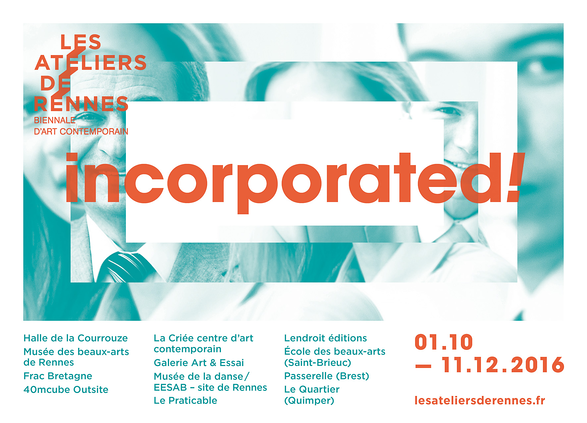 Les Ateliers de Rennes – contemporary art biennale
Incorporated!
Les Ateliers de Rennes – contemporary art biennale
October 1–December 11, 2016
Opening: September 30
Rennes and Brittany, France
Curated by François Piron for its 2016 edition, the contemporary art biennale Les Ateliers de Rennes is pleased to announce its final list of participating artists.
Ed Atkins, Babi Badalov, Ismaïl Bahri, Eva Barto, Camille Blatrix, Maurice Blaussyld, Jean-Alain Corre, Trisha Donnelly, David Douard, Michaela Eichwald, Jana Euler, Jean-Pascal Flavien, Aaron Flint Jamison, Michel François, Melanie Gilligan, Karolina Krasouli, Laura Lamiel, Klaus Lutz, Mark Manders, Mélanie Matranga, Anna Oppermann, Jean-Marie Perdrix, Jorge Queiroz, Anne-Marie Schneider, Liv Schulman, Lucy Skaer, Thomas Teurlai, Darielle Tillon, Anne-Mie Van Kerckhoven
"What are emotions we are about to have in a future already present? The era of emotions is over. One prefers a mood or mood predictor […] which in turn become logos for products, which in turn become product-emotions, which in turn become consumers (by-products)," once stated American poet Tan Lin. In other words: What are the consequences of our incorporation into the abstract systems of our economic world?
Incorporated! focuses on the affects provoked by our prolonged submission to the ideologies and the technologies governed by economics. The dissolution of borders between the public and the private, the singular and the common; feelings of helplessness and dispossession: these are all examples of the concerns reflected in the artworks by this cross-generational group of renowned and emerging artists.
Incorporated! aims at reconsidering the emancipatory forces that lie in the negation, the opacity, the resistance exerted by the artworks gathered in the biennale. The exhibition will present numerous new productions and important ensembles specially commissioned for the biennale.
A dozen solo and collective exhibitions form a single project, with intensities, tones and moods specific to each venue.
In Rennes: Halle de la Courrouze, Musée des beaux-arts de Rennes, Frac Bretagne, 40mcube Outsite, La Criée centre d'art contemporain, Galerie Art & Essai, Le Praticable, Musée de la Danse / École Européenne Supérieure d'Art de Bretagne (EESAB) – site de Rennes and Lendroit éditions.
Elsewhere in Brittany: Passerelle Centre d'art contemporain (Brest), Le Quartier Centre d'art contemporain (Quimper), École des Beaux-arts / Galerie Raymond Hains (Saint-Brieuc).
Organization: Art Norac
Curator: François Piron, assisted by Marie de Gaulejac
Implementation: le troisième pôle
Les Ateliers de Rennes – contemporary art biennale
Since 2008, Les Ateliers de Rennes – contemporary art biennale is a renowned international artistic event in Brittany founded by Art Norac. The biennale receives support from the City of Rennes – Rennes Métropole, the Ministry of Culture and Communication (Drac Bretagne), the Brittany Region, and the General Council of Ille-et-Vilaine.