Art Paris Art Fair
Grand Palais
March 29–April 1, 2012
Preview:
March 28, 6–10pm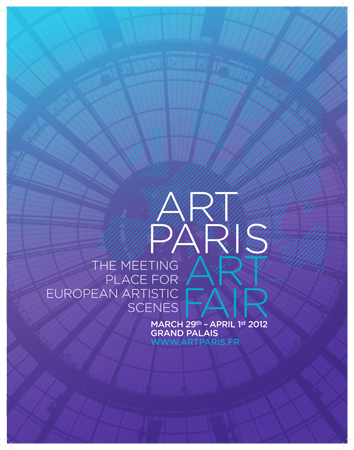 Art Paris Art Fair, the Springtime fair for Modern and Contemporary Art in Paris
From March 29th to April 1st, 2012, Art Paris Art Fair brings together 125 international galleries and editors under the majestic glass dome of the Grand Palais. The 2012 edition is a turning point in the evolution of the fair, bringing a new focus, a new team and new events.
A New Team for Art Paris Art Fair
Julien Lecêtre, CEO of Art Paris has appointed Guillaume Piens, former Director of Paris Photo as the fair's new Director. Catherine Vauselle also joins the team as Head of Communication and Partnerships. She was previously in charge of communication for the cultural and leisure department at Reed Expositions France. A new selection committee has also been established, with six prominent personalities on the European art market: Bernard Ceysson, Ernst Hilger, Catherine Issert, Priska Pasquer, Barbara Polla, Martine Schneider-Speller.
New Ambitions for 2012: Promoting European Artistic Scenes
Art Paris Art Fair has set about exploring the diversity of contemporary creation throughout Europe. The general sector will offer an international overview of the arts in the 20th and 21st centuries, while a series of platforms will turn the spotlight on a European city or region to highlight a particularly vibrant energy of a specific decentralized art scene.
Art Paris Art Fair is also launching a European Creative Design Sector under the title "Séries Limitées", as well as a VIP programme for collectors called "Springtime in Paris."  In addition a programme of talks will be initiated in the Grand Palais.
Applications for Art Paris Art Fair 2012 are now open. www.artparis.fr – "Exhibitor access"
In order to obtain your personal login and password to apply please contact:
Jérémie Thomas : P:+33 (0) 1 56 26 52 13  [email protected]
Valentine Lecêtre : P:+33 (0) 1 56 26 52 34 [email protected]
Applications will be reviewed by the selection committee whose meeting is scheduled for 4th November 2011.
Practical information
Art Paris Art Fair
March 29th–April 1st, 2012
Grand Palais, Avenue Winston Churchill, 75008 Paris
Professional Preview (by invitation) Wednesday March 28th, 2012, from 2pm to 6pm
Opening (by invitation) Wednesday March 28th, 2012, from 6pm to 10pm
Opening hours
Thursday March 29th, 11.30am–8pm
Friday March 30th, 11.30am–10pm
Saturday March 31st, 11.30am–8pm
Sunday April 1st, 11.30am–7pm

Office: Art Paris Art Fair – 55 Avenue Kléber – 75116 Paris – France
Fair office: +33 (0) 1 56 26 52 13 – F +33 (0) 1 47 55 19 31 – [email protected]
Communications and sponsorships: +33 (0) 1 56 26 52 35 – F +33 (0) 1 47 55 19 31 – [email protected]
www.artparis.fr