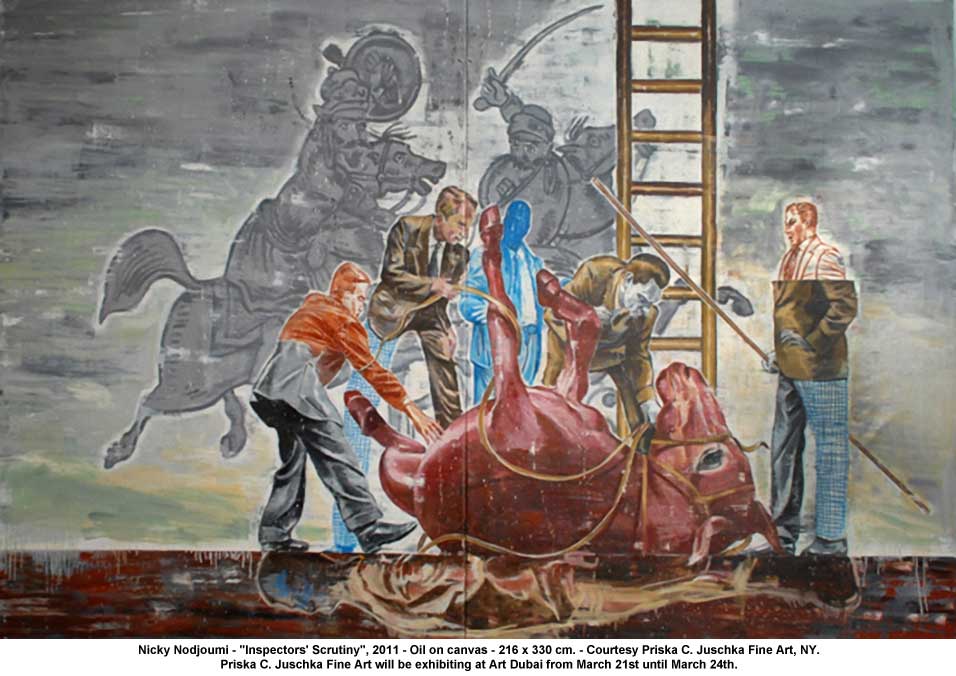 Dubai.- Over the last five years, Art Dubai, the leading international art fair in the MENASA (Middle East/North Africa/South Asia), has become a cornerstone of the region's booming contemporary art community. In 2011, Art Dubai welcomed 20,000 visitors – including 60 international museums groups – and hosted over 70 galleries from 30 countries. The sixth edition of Art Dubai takes place from March 21st through March 24th, at Madinat Jumeirah, and features 75 galleries from 31 countries, in addition to a new programme of artists' and curators' residencies, commissioned projects, performative tours, workshops, the unveiling of the works by Abraaj Capital Art Prize winners and the critically acclaimed Global Art Forum.
Art Dubai is part of Art Week, the umbrella initiative that includes Sikka Art Fair (organised by the Dubai Culture & Arts Authority, and taking place in Al Bastakiya, March 15-25), Design Days Dubai, and a range of contemporary art and design events, major museum shows, and new gallery exhibitions and artists' projects, taking place each March.  Art Week positions the Gulf as a place of artistic production and home to multiple cultural centres. The fair is held under the Patronage of HH Sheikh Mohammed bin Rashid Al Maktoum, Vice-President and Prime Minister of the UAE, Ruler of Dubai, and is run as a joint venture between the Dubai International Financial Centre (DIFC) and Middle East Fairs Ltd. Art Dubai Ladies' Day, Wednesday March 21, is held under the patronage of HRH Sheikha Manal bint Mohammed bin Rashid Al Maktoum, President of Dubai Women's Establishment, Wife of HH Sheikh Mansour bin Zayed Al Nahyan, Deputy Prime Minister and Minister of Presidential Affairs UAE.
The Global Art Forum was launched by Art Dubai at its inaugural fair in 2007. Bringing together art world protagonists for a week of conversation, the Forum has become the region's leading platform for contemporary art discourse, with a particular emphasis on issues prevalent in the Middle East and Asia. In 2012 the Global Art Forum expands to six days and features commissioned projects and research, as well as live debates and presentations. Now in its sixth year, the Global Art Forum is directed by writer Shumon Basar and is characterized by a particularly innovative and dynamic approach. Entitled 'The Medium of Media', the Forum is re-inventing itself this year. Along with the familiar array of lectures, conversations, discussions, and workshops, it includes a new roster of commissioned projects that precede and succeed the live days. Thematically, the Global Art Forum_6 looks at the double meaning of the term 'media', both within the art world and referring to the world of publishing and reportage. Underpinning this is a look back at the past year in the Arab world, and how fundamental events have been both produced and consumed as media. The Forum is, effectively, a media production about media.
Over 50 contributors to Global Art Forum_6 include: CEO and Wallis Annenberg director of LACMA Michael Govan; Serpentine Gallery co-director of exhibitions and programmes and director of international projects Hans Ulrich Obrist; novelists Douglas Coupland and Amin Maalouf; journalist/critics Josephine Bosma and Sukhdev Sandhu; art market reporter Georgina Adam; geo-strategist and author Parag Khanna; film-producer Anna Lena Vaney; artists Shezad Dawood, Constant Dullaart, Wael Shawky and Michael Rakowitz; curators Jack Persekian and Nat Muller; Demotix founder Turi Munthe; commentators Mishaal Al Gergawi and Yasmine El Rashidi; as well as filmmaker Sophie Fiennes with a special screening of Over Your Cities Grass will Grow. Commissioned projects include a series of PowerPointsTM by writers and artists, curated by Victoria Camblin, including Ayshay+Kari Altmann, Douglas Coupland, Goldin & Senneby, LuckyPDF and Alex Provan (Triple Canopy); a Dictionary of the Mediatized Gulf by Qatari artist-writer Sophia Al Maria; a publication entitled Some Medium Stories, edited by Michael Vazquez featuring Emily Dische-Becker, Tom Francis, Kristine Khouri; and a Media Archiving blog by Mariam Wissam Al Dabbagh. Two new collaborations between Art Dubai and Mathaf will be announced: an interactive Arabic Art Glossary, led by curator Lara Khaldi, and an Artist's Residency at Al Jazeera news network, Doha. These works will be made available, in both Doha and Dubai, at the new Forum-Forum resource space, which will include UAE research by Brusselssprout and blogger/photographer Hind Mezaina as well as works by artists Isak Berbic and Banu Cennetoglu.
Art Dubai Projects is a programme of new works and performances that explores the fabric and economy of an art fair, embracing the theatrical nature of such an event. In 2012, this critically-acclaimed, interactive programme at Art Dubai (March 21-24, 2012) features dynamic new initiatives: artists' residencies and site-specific projects are joined by live, city-wide radio transmissions; a new Performance Night staged at the fair; plus a unique artist's project for children.  Artists commissioned to produce new site-specific and performative works for Art Dubai Projects include Fayçal Baghriche, Yto Barrada, Carlos Celdran, James Clar, Koken Ergun, Setu Legi, Magdi Mostafa, UBIK and Deniz Üster. In partnership with The Pavilion Downtown Dubai, The Curatorial Delegation — a collective consisting of writer and curator Juan A. Gaitán and Rabat's L'Appartement 22 founder Abdellah Karroum — presents Radio for Example (R22-Dubai), a live transmission of mobile conversations with leading artistic practitioners, recorded on the move, around Dubai. These interviews will be streamed on Radio Apartment 22 and presented at Art Dubai and The Pavilion. In keeping with the spirit of collaboration, Art Dubai hosts its inaugural Performance Night on March 22, in partnership with not-for-profit artspace Traffic. This special event features artists, poets, musicians, academics, curators, and collectors — most of whom are based in the UAE — including Hala Al Ali, Isak Berbic, Jennifer & Kevin McCoy, Anahita Razmi, Lantian Xie and WolfPakistan, a self-styled "native-born Emirati Indian Slash Mexican dance rap group". Visit the fair's website at … http://artdubai.ae