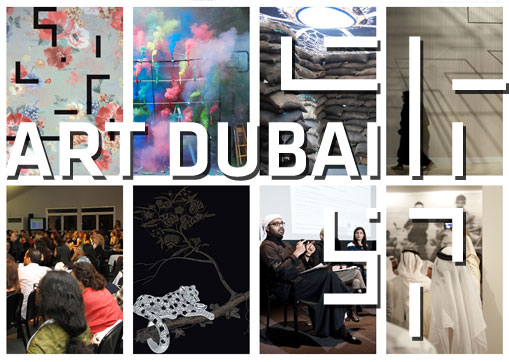 ART DUBAI CLOSES WITH RECORD ATTENDANCE, INCLUSION OF MUSEUM QUALITY ARTWORKS AND FORWARD-LOOKING PLANS FOR ARTS DEVELOPMENT
The Middle East's largest contemporary art fair was attended by 22,500 UAE-based, regional and international guests, including curators, collectors, gallerists, artists, and 75 international museum groups.
Now in its sixth year, Art Dubai's mature roster of participating galleries has reached out to the arts scenes of East Asia, widening the fair's existing reach across the MENASA region, Europe and the Americas, and highlighting its role as an intimate yet extraordinarily globalized meeting point. The impressive line-up of 75 galleries generated sales from international and regional institutions as well as established and first-time collectors.
For 2012, new names such as Galerie Rodolphe Janssen, Arndt, The Pace Gallery and Alexander Gray Associates brought museum-quality artworks to Art Dubai alongside returning gallery heavyweights, the majority of which experienced strong sales. Jeddah's Athr Gallery and Dubai's The Third Line, among others, reportedly sold out on the preview day. Art Dubai also invited five galleries from Indonesia as part of its Marker section, curated by Alia Swastika, and included over 40 artists in its commissioned projects programme, underscoring the fair's role as a site of discovery.
"Now six years old, Art Dubai has a new maturity. In 2012, we reached out beyond our established base in the Middle East and South Asia, building new links for both the local arts scene and visiting galleries, recognizing that it's fundamental to always bring new blood into the fair," said Antonia Carver, Fair Director, Art Dubai. "Looking ahead, we aim to develop our relationship with African contemporary arts scenes, drawing on existing cultural links and shared histories."
Art Dubai 2012's ambitious offering of artists' projects and dynamic programming generated a wealth of interest from an increasingly diverse audience base.
The fair played a key role in cultivating the intrinsic link between debate and artistic practice during the six-day Global Art Forum. Directed by writer and curator Shumon Basar, the Forum explored the theme of 'The Medium of Media' and added a series of commissioned research, exhibition and publishing projects to the programme. Over 50 contributors, including writer-artist Douglas Coupland, art historian Victoria Camblin, and artists Michael Rakowitz and Wael Shawky, took part.
For 2012, Art Dubai also introduced Terrace Talks, a more intimate series of presentations, featuring discussions with Los Angeles County Museum of Art's Michael Govan; Melissa Chiu, director of the Asia Society Museum; collector and patron Richard Chang; Lekha and Anupam Poddar of the Devi Foundation; and Chinese performance artist Zhang Huan, among an inspiring array of speakers.
"Art Dubai is firmly rooted in the Middle East yet a progressively global cultural platform. Going forward, we'll be developing ongoing initiatives, such as the Arabic Art Glossary being developed by Lara Khaldi, announced during this year's Global Art Forum, in addition to year-round artists' and curator-in-residence programmes and educational seminars. We hope these institutional elements will act as further catalysts, contributing to the arts and cultural infrastructure of the UAE and the wider region," added Carver.
For more information and the latest updates, please visit www.artdubai.ae, become a Fan of Art Dubai on Facebook and follow Art Dubai on Twitter at @artdubai
Contact:
Art Dubai
Farah Atoui, Press and Marketing Manager
farah@artdubai.ae
+971 4 384 2009
Art Dubai
Held under the patronage of H.H. Sheikh Mohammed bin Rashid Al Maktoum, Vice-President and Prime Minister of the UAE and Ruler of Dubai
Over the last six years, Art Dubai, the leading international art fair in the MENASA (Middle East/North Africa/South Asia), has become a cornerstone of the region's booming contemporary art community. In 2012, Art Dubai welcomed 22,500 visitors, including 75 international museums groups.
Art Dubai is held in partnership with Abraaj Capital and sponsored by Cartier. Madinat Jumeirah, on Dubai's beachfront, is home to the event.