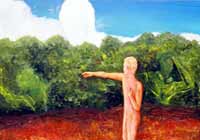 Córdoba, Argentine.
July of 2009
Dear artist Darko D.Topalski
Once informed about the characteristics of your work, we will consider your possible inclusion in the book named " La Estética y el Arte Contemporáneo II" published by ATcultura, being the book of huge format, art-gallery quality with full colour images and texts in English and Spanish. The selection was based upon quality and origin as in previous publications by ATcultura: "Arte Iberoamericano Contemporáneo" (Contemporary Latin-American Art), www.atcultura.com.ar with the participation of Regina José Galindo, (winner of the León de Oro Bienal de Venecia, 2005), Caio Fonseca (Bill Gates´ collection) etc; "Arte Contemporáneo Imágen y crítica" (Contemporary Art Image and Review), with the collaboration of the artists Carole Feuerman, Rosella Matamoros, and others.
Atcultura is sponsored by the Government formally but receives no money, that is the reason why this venture is supported through sponsors only, thus asks artists for a reasonable economic contribution.
If you are interested in being part of this book, we need an immediate response via e-mail to [email protected] or [email protected] so as to include you in the listing of chosen artists.
Visit www.atcultura.com.ar and
http://www.550m.com/usuarios/Ram/arte/Actividades%20culturales/arteiberoamericano.html in order to see the launch of the previous book.
Look forward to hearing from you.
Lic. María Miriam Farías Iriarte.
ATcultura. Secretary.
www.atcultura.com.ar