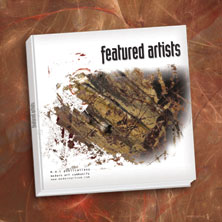 Art book – Call for entries
"Featured Artists" Art book
Collectible global art book
Estimated Release Date: November 2009
Hardcover 200+ pages
DIMENSIONS: 21×21 cm – 8.2X8.2 in
Inclusions by selection only
Modern Art Community and Mediaplan publishing invite you to participate in a collectible book of art.
Featured Artists is a daring attempt to feature several contemporary artists in an overview, a book which will be a resource for galleries, museums, artists, art collectors and dealers who constantly seek for new talents and trends in the art community. Featured artists is an art book which is also a source of information, including many artists profiles, and new trends that appear in the art world nowadays.
Having an Artist Profile published in "Featured Artists" art book is absolutely necessary and essential for an artist and also a tool that can elevate your career much higher.
Please note that this is not a free inclusion.
More info: www.modernartcom.com
Best regards
Peter Doughty
Curator
Mediaplan publishing
US office 15 Albamont Rd. Winchester MA 01890
Europe office 16-18, St Anastasias 142 32, Athens Greece
ADDITIONAL INFO
CRITERIA FOR PARTICIPATION
Artists are invited to submit material for selection so as to be included in the book. Every nomination is based entirely on the merit of the work submitted for selection. The applications are judged only by visuals submitted to artist@modernartcom.com.

MATERIALS TO SUBMIT FOR SELECTION
Artists who wish to be included in the Featured Artists book must send for selection:
• 4-6 artworks (JPEG in high resolution)
• Details of the artworks such as name, year, size, media.
• An essay or a critique up to 500 words.
• The application form
PRICES
If the artist is selected an editorial fee is requested to cover editorial and production expenses. The current editorial fee starts at 490 euros (or the equivalent currency) for one page and 890 euros for two pages presentation in the book.
For more than one page, the artists gets another page free of charge. For additional pages every other page costs 350 euros. (example: an artist wishes to participate in Featured Artists with 3 pages. The cost will be 890+350=1240 euros and have an extra page free of charge).
Click here for Currency Converter
The editorial fee is not requested for the right to be included in Featured Artists but covers a standard production cost which includes creative layout and design of each page, editing, offset print, packing, shipping, distribution and three copies send to every artist included in the book. When the artist receives a layout of the page or pages and they concede to it, the fee is expected to be provided either by artist or by a gallery, corporation, or a sponsor.
DISTRIBUTION
Featured Artists distribution is made globally through large book wholesalers and e-shops, including Amazon, Barnes and Noble, Borders and more.
MEDIA ACCEPTED:
Painting, mixed media, decorative art, design, animation, caricature, sketching, drawing, collage, fiber art, sculpture, pottery, digital art, 3D art, photography, installations.
DEADLINE
The current edition is in progress. You can click on the Media pack below to view, download or print the application form.