C A L L   F O R   A R T I S T S ::

Upon Request – Extended Submissions Deadline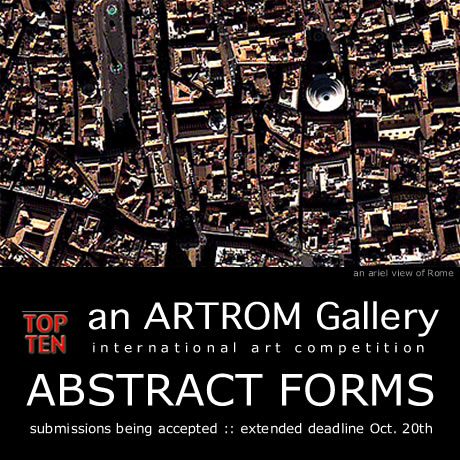 Since 2004, ARTROM Gallery has offered artists the possibility to participate in over thirty international On-Line Art Competitions and Winners' Exhibitions.
We invite artists to submit their best images for consideration in this TOPTEN International Art Competition.
THEME : Abstract Forms
MEDIA : painting, including colored pencils, pastel, watercolor, mixed media.
EXTENDED DEADLINE : October 20th, 2008
JURY : to be announced shortly
> competition information
> on-line entry form
> Winners' Exhibition Archive
First Place Winner will be awarded a one year Membership in the ARTROM Gallery GUILD, a free press release through the ARTROM PRess Service, and a presentation as Featured Artist in the on-line TOPTEN Abstract Forms '08 Winners' Exhibition.
ARTROM Gallery focuses on supporting initiatives which promote creative research through on-line international Art Competitions, Exhibitions, One Person Shows, membership in the ARTROM Gallery GUILD and contemporary art sales.
www.artromgallery.com