www.mastersoftoday.com
submit Art in Vogue‏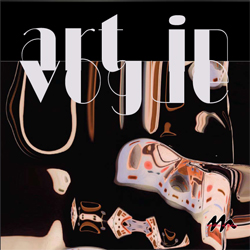 Art in Vogue – Contemporary Artists
Collectible global art book
ISBN: ISBN-13: 978-91-89685-13-0
Estimated Release Date: 2010
Hardcover 256 PAGES
Edited and Published by MOT
DIMENSIONS: 8.5X8.5 IN / 22×22 cm
Media pack
SUBMIT FOR SELECTION
We are in the process of selecting 100 contemporary artists to be featured in Art in Vogue, a new book in Masters of Today 1000 Contemporary Artists Series, one of the most professional visual art resource and opportunity for publicity and advertising.
If you are an artist or a gallery interested for an artist profile in Art in Vogue we would be delighted to review your submission. To get the nomination completed please provide by email with attachments the materials requested below:
Materials to Provide
Artists wishing to enter an Artist Profile should provide to the selection:
" 3~6 art works (email us JPG /TIFFs image files as 300 dpi /23 cm/ 9″ side.
" The works details : title, year, media, size
" From 300 to 500 words of critic or statement
" The personal website
" The place of residence and work
Please make sure your submission conform to the requirements outlined above.
INCLUSION FEE POLICY
After selection an editorial fee is requested to defray editorial and production expenses. The artist reduced fee start at 590 Euro for one-page and 990 Euro or the equivalent currency for two-page spreads (advertisment full rate 6890 Euro.) The editorial fee applies accepted submissions. Final determination will be made by MOT's Editors.
The editorial fee is not for the right to be the included in our collectible global art books but represents an standard production cost that includes creative layout and design-per-page, full editing, plates and offset print.
The fee should be provided by a gallery, corporation or individual contributor or self-provided after receiving a layout alternative in the book.
Each artist included will receive three copies of the book.
Deadaline
The editing process is in progress. Click-on the PDF above to view, download, and print the Application Form.
DISTRIBUTION
MOT's distribution is through large book wholesalers and ecommerce channels in US bookstores and internationally including Barnes & Noble, Borders, Amazon ad more.