Exhibition #4
Until 25 October 2011
The Museum of Everything
Selfridges & Co
400 Oxford Street, London W1A 1AB
museum
www.musevery.com
www.digevery.com
shop
www.shopevery.com
workshops
www.workevery.com
Hours:
Monday to Saturday
9:30am–8:00pm
Sunday
11:00am–6:00pm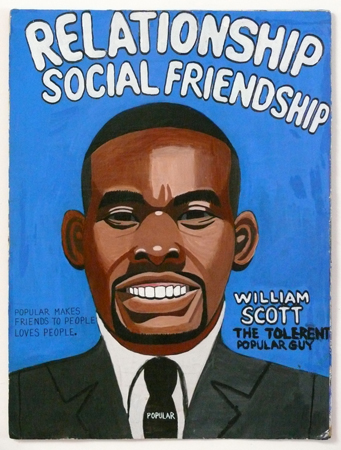 The Museum of Everything—one of Britain's most successful independent art museums—returns to London with a brand new installation.
Exhibition #4 is the first international survey of studios for contemporary artists with developmental issues. The venue is Selfridges of London, where 50 new discoveries—& over 400 works—will form the most expansive art collaboration in the history of the department store.
Exhibition #4 runs for eight weeks and occupies ALL the windows on Oxford Street. The main show is in the Ultralounge and features an installation created with Eve Stewart, designer of The King's Speech.
Highlights include Japanese wrestle-maniac Tomoyuki Shinki, West Coast social activist William Scott and visionary architect Stefan Hafner,whose City of the Future now adorns the corner window on Orchard Street.
In the Wonder Room, The Shop of Everything will sell bespoke merchandise to benefit the museum & its artists, including editioned prints & fashion collaborations with designers Clements Ribeiro & Tracy Neuls.
Exhibition #4is the largest project The Museum of Everything has ever staged. In addition to thephysical show, a digital version—Exhibition #4d—will launch at the same time. Exhibition #4d can be seen online atwww.digevery.com.
Other events include talks, screenings & the launch of Everything #4, a book of the show featuring conversations with Cindy Sherman, Sir Ken Robinson, Chris Dercon & David Byrne.
The Workshops of Everything is an initiative to encourage workshops for artists with disabilities across Britain. The museum will run several workshops during the show and invites creative adults with developmental and other disabilities to participate on we@musevery.com.
features
-hundreds of artworks by new undiscovered artists
-information on progressive art studios worldwide
-physical exhibition and online digital exhibition
-events, talks, screenings of The Films of Everything
-workshops led by well-known contemporary artists
-unique merchandise sold in The Shop of Everything
highlights
-the launch of The Workshops of Everything charity
-exclusive clothing range created with Clements Ribeiro
-Frieze debate on the show with Intelligence Squared
-The Museum of Everything legendary Frieze VIP party
contact
general
me@musevery.com