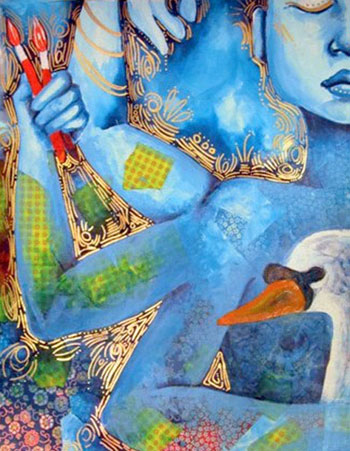 The 5th Annual Spoken Soul Festival 2012
Saturday, March 31, 2012. 6:00 – 10:00 p.m.
The Moore Space
 4040 NE 2nd Avenue. Suite 200. Miami, FL 33137
Admission: Free
"The Historic Moore Building in the Miami Design District is the perfect venue for this year's Spoken Soul Festival. Now in it's 5th year, the Festival has grown exponentially, expanding its reach and supporting some of the best women artists in Miami. We are pleased to provide such a venue in support of Spoken Soul Festival this year as in years past so that the Festival can continue to grow and have a positive impact on Miami and beyond." states Tiffany Chestler, Curator and Manager of The Craig Robins Collection.
Spoken Soul Festival features three events: SWAN Community Program, its main event SWAN Spoken Soul Showcase – SWAN DAY, and Vanessa Baez Memorial Women's Brunch.
The free to the public, and free for the artists to participate, main event SWAN Spoken Soul Showcase Vol. 5 – SWAN DAY 2012, will take place on Saturday, March 31, 2012 from 6:00 to 10:00 p.m. at The Moore Space in the Miami Design District, hosted by radio personality from both Clear Chanel stations 939 MIA and MEGA 949. This year's celebration of SWAN DAY 2012 is set to be the biggest thus far with fifteen featured women artists from all walks of life that now call Miami home.
What started out as a small dinner gathering, in five short years, it's grown into a SWAN Diva of a festival. Spoken Soul Festival was inspired by a call for support by WITASWAN (Women in the Audiences Supporting Women Artists Now) and WomenArts, a non-profit arts service organization dedicated to helping women artists all over the world.
In the first five years of Support Women Artists Now Day/SWAN Day, there have been over 700 SWAN events in 21 countries around the world. WomenArts has recognized SWAN Day Miami as one of the top five SWAN events worldwide because the festival is one of the largest SWAN events and one of the most effective in training and supporting the participating women artists.
Since its launch in March 2008, the festival has been awarded proclamations from the City of Miami Beach, Miami Dade County and the City of Miami as well as a City Of Miami special City Seal. Featured artists have been commissioned or featured for shows during Art Basel – Miami, Gibson Guitar Showroom, Hardrock Café – Las Vegas, New York Fashion Week, featured in Women of The World Poetry SLAM and Gen Art's Fresh Faces Miami thanks to their participation and exposure in Spoken Soul Festival.
Singers such as local favorite Antonia Jenaé, top selling poet, Haiku Death Match Miami Champ 2011 and featured author of Hialeah Haiku Elena Santayana, NFAA's YoungArts star visual arts discipline coordinator lonijae (Loni Johnson) along with other up and coming DJ, photographers, and designers are set to blaze The Moore Space with talent, grace, color, and living ART. "This is my favorite event of the year! It's such an honor to be a part of Spoken Soul Festival and SWAN Day. Every year there's a new group of talented women that leave me in awe." gloats on-air radio personality Chanel – 9393 MIA and MEGA 949.
Spoken Soul Festival at The Moore Space
4040 NE 2nd Avenue, Suite 200
Miami Design District, FL 33137
www.spokensoulfestival.com