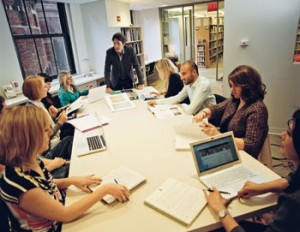 Preferred deadline: April 20, 2012*
Starting date: Fall 2012 and beyond
Now seeking faculty
www.sothebysinstitute.com/faculty-positions
Sotheby's Institute of Art – New York, together with its counterpart in London, is a pioneer in the development of graduate education for today's complex art market. Internationally recognized programs in Art Business, Contemporary Art, and American Fine & Decorative Art combine art and business studies in a rigorous academic and professional framework. With opportunities for cross-program learning, students engage in a distinctive course of study that offers first-hand encounters in the global art world, examination of works of art in context, study travel, and professional practice.
The success of this unique program, along with the unprecedented expansion of the art world, has resulted in rapid growth in the Institute's MA and Certificate programs, as well as its short courses, summer programs and an innovative new online offering.
During this exciting phase of development, the Institute is seeking new faculty with specialist academic credentials, deep engagement in the art world, and a keen interest in evolving educational and business models.
Qualifications include:
Ph.D., J.D., M.B.A. or advanced degree combinations in art history, business, art law and related disciplines
Current knowledge of the international art market, including emerging primary and secondary markets, and experience in the art world within either commercial or non-profit sectors and/or relevant professional business experience
Teaching experience, ideally at the graduate level
Ability to work collaboratively with a growing and dynamic academic team
Creative ideas about course content and pedagogy
Flexibility and ability to adapt to a rapidly changing environment
Strong network of international and local connections to the art world
* Applications and nominations for future appointments will be accepted until all positions are filled.
Please send letter of interest and resume to: [email protected]
About Sotheby's Institute of Art
For more than forty years Sotheby's Institute of Art has offered object-based, professionally-oriented education that draws creatively upon the resources of important art centers worldwide. At the Institute's campuses in London and New York graduate-level programs and courses actively engage students in the dynamic international art world. Sotheby's Institute of Art offers a variety of graduate programs, diplomas, semester courses, and summer study programs in London and New York. Applications are now accepted for entry in September 2012. www.sothebysinstitute.com