Kungl. Konsthögskolan / Royal Institute of Art in Stockholm
Royal Institute of Art in Stockholm: Call for Applications
Research opportunities and
a PhD position
Application deadline: March 14, 2011.
For visiting:
Flaggmansvägen 1, Skeppsholmen, Stockholm
Postal address:
Box 163 15, S-103 26 Stockholm, Sweden
Phone number: +46-(0)8-614 40 00
Fax number. +46-(0)8-679 86 26
[email protected]
http://www.kkh.se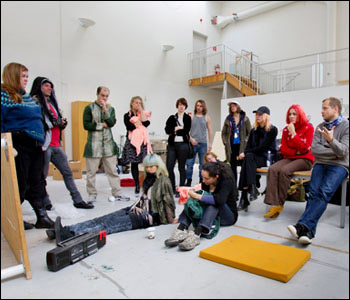 Doctoral position (PhD)
Within the framework of Konstnärliga Forskarskolan (a Swedish national research school in the field of arts, www.konstnarligaforskarskolan.se), the Royal Institute of Art advertises a doctoral position with the theme of "Urbanism" explored from a practice-led artistic research perspective. The research programme offers four years of research time (240 ECTS-credits) and leads to the award "PhD in Visual Art". The call for application targets experienced artists, architects, and other cultural practitioners who are interested in exploring issues related to the city as a spatial, cultural, socio-political and economical phenomenon.
To undertake a doctoral study at the Royal Institute of Art means to engage in a critical discourse, and to develop a practice-led artistic research project of a high international level which will be publicly presented and defended. The research process should be documented and critically and contextually reflected upon in a suitable presentation format. The research project is expected to offer knowledge and insights within the artistic field.
Mejan Residents
Royal Institute of Art advertises four 1-year places called Mejan Residents, which are aimed for practice-led artistic research projects. The programme is at post-master level and full-time (60 ECTS-credits) and starts 1st of September 2011.
Mejan Residents offers the opportunity for developing a one-year research project. The target group of applicants includes professional practitioners on an international level within the artistic field such as artists, architects, critics, curators, filmmakers and others.
The Mejan Residents will also be offered to participate in a number of research seminars where the development of their projects will be discussed together with other researchers at the Royal Institute of Art, as well as invited international guest critics. Each research project is allocated a production budget of a maximum of 100 000 SEK that can be applied for. The year will conclude with a public presentation of the different research projects.
About the Royal Institute of Art in Stockholm
With a prominent history dating back to 1735, the Royal Institute of Art is one of the oldest as well as one of the most influential higher education art institutes in Northern Europe. Over the years many of our graduates have gone on to pursue highly successful international careers as artists. The core faculty consists of artists with prominent international profiles, and the institute is every year visited by a large number of guest lecturers.
The Royal Institute of Art provides some of the best-equipped technical workshops within higher education in Europe, offering a wide variety of techniques such as, painting, sculpture, video, sound, photography, printmaking, and interactive techniques.
Lastly, the Royal Institute of Art is located in central Stockholm, which is home to one of the most dynamic international art scenes in Northern Europe.
Application
The application deadline is March 14, 2011. For more information, please see: http://www.kkh.se