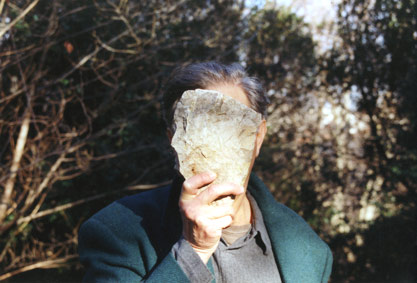 Jimmie Durham:A Matter of Life and Death and Singing
M HKA museum (Antwerp)
Exhibition Dates:May 24 – November 18
My work might be considered 'interventionist' because it works against the two foundations of the European tradition: Belief and Architecture. My work is against the connection of art to architecture, to the 'statue', to monumentality. I want it to be investigative, and therefore not 'impressive', not believable.
– Jimmie Durham, 2003
M HKA is proud to present the first comprehensive retrospective of Jimmie Durham's art. born in Arkansas in 1940 and based in Europe since 1994, he is one of the most influential artists today and a prominent essayist and poet. His art and his thinking are of crucial importance to many artists, curators and theoreticians, not least of the younger generation.
Durham is one of very few contemporary artists to also have hands-on experience of political work. in the 1970s he was one of the leaders of the American Indian Movement and then the representative of the international Indian Treaty council to the united nations.
The title for the retrospective was also used for one of durham's first solo exhibitions in New York in the 1980s. A Matter of Life and Death and Singing reflects his seriousness and wit, his aesthetic and political engagement, his inventive resistance to architecture and other symbols of the state. all this is part of durham's uncompromising commitment to what he calls 'humanity's thinking process'.
Durham uses all the components of what is today called visual art: the object, the image, the word, the action. Images and words may be nailed or glued or painted onto objects, which may be made 'live' in front of an audience. This process may be captured on video. His work is 'sculpture' in the widest sense: material appearances in space. The materials range from wood and stone and bone to plastic tubes and printed text. Durham also works with drawing, painting and video, and he creates his own museums, sometimes in collaboration with his partner, the artist Maria Thereza Alves.
Durham's retrospective at M HKA features more than 100 works from all his creative periods. Many of his ideas and images recur in different forms at different stages of his career, so the exhibition presents 'ensembles' of works that are not always chronologically organised.
A generously illustrated book will accompany the retrospective. It is published by M HKA in collaboration with JRP Ringier in Zurich and contains essays by Jimmie Durham himself, Guy Brett and Richard William Hill, as well as an introduction by the curators. In addition there will be a new collection of Durham's essays edited by Jean Fisher, who also edited the previous collection, A Certain Lack of Coherence.
The whole project is based on in-depth research and the creation of a substantial database, the M HKA ensemble bank, which already contains all of Durham's texts and information about more than 800 of his works. This is the beginning of a digital catalogue raisonné of Jimmie Durham's oeuvre, which M HKA will continue to develop.
Curators: Bart de Baere, Anders Kreuger.
AN ADDITIONAL TALK BY JIMMIE DURHAM WILL TAKE PLACE:
Thursday April 26, at 13.00hrs
Wien Lukatsch gallery and bookshop for art books, Schöneberger Ufer 65, 3rd floor, 10785 Berlin