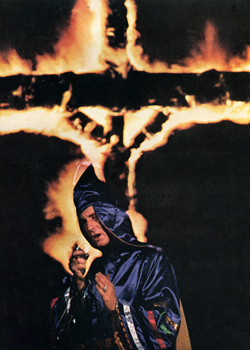 Images Festival
12–21 April 2012
Established in 1987, Toronto's Images Festival is the largest festival in North America for experimental and independent moving image culture, showcasing the innovative edge of international contemporary media art both on and off the screen. Alongside film + video screenings, the festival presents groundbreaking live performances, media art installations in 16 local art galleries and online projects by many renowned Canadian and international artists within our three exhibition platforms:
Images On Screen (Film/Video screenings), Images Off Screen (Gallery exhibitions + online projects) and Live Images (multidisciplinary performances).
The 2012 the Images Festival showcases over 120 projects in 22 venues throughout Toronto including our new "pop-up" gallery "Images at 204" and at our main theatrical venue: the Art Gallery of Ontario. In addition to screenings and gallery shows, Images presents artist talks, forums, guided gallery tours and parties. Situated in 16 gallery venues including A Space, Gallery TPW, Mercer Union, The Power Plant, YYZ and many others, Images Off Screen 2012 presents 26 exhibitions by Joshua Bonnetta, Deanna Bowen, Marc Boulos, Duncan Campbell, Keren Cytter, Oliver Husain, Abishek Hazra, Gary Kibbins, Silvia Kolbowski, Annie MacDonell, Julieta María, Naeem Mohaiemen, Antoni Muntadas, Alexandra Navratil, Tristan Perich, Sara Rara, Yashas Shetty, Deborah Stratman, Angélica Teuta, Kerry Tribe and many others!
We are thrilled to present a screening of a documentary on internationally renowned feminist artist Carolee Schneemann entitled Breaking the Frame directed by Montreal-based Marielle Nitoslawska in a sneak peek at Nitoslawska's much anticipated documentary and to see the Director and subject Carolee Schneemann in person. The night before please join us for an intimate fundraising dinner with Carolee Schneemann, filmmaker Nitoslawska and Chef Nathan Isberg at The Atlantic Restaurant on April 3, 730 PM. Chef Nathan Isberg "is in the vanguard of an evolution of creative thinking that fuses the science of cuisine with the finest cultural flavours available through experience all married with his refined personal taste."
OPENING NIGHT GALA: Renowned Ghanian/UK filmmaker John Akomfrah (in person), co-founder of London's seminal Black Audio Film Collective presents his latest feature The Nine Muses, a documentary meditation on migration and landscape. With stunning shots of Alaskan shores and audio filled with moving readings, from Homer to Dante to T.S. Eliot; and the music of Arvo Pärt and India's Gundecha Brothers, Akomfrah has created a haunting journey through myth and landscape, a self-described "Proustian attempt" to suggest the idea of migration.The Nine Muses opens the 25th festival with its Canadian premiere (Thursday April 12, 6:45 PM at The Royal)
LIVE IMAGES features film, video and audio artists, musicians and other performers live and in person with spectacular media-based live performances. Highlights include: Closing Gala Yo La Tengo with archival 35mm films by Jean Painlevé, the performance piece I Eat Pickles at Your Funeral by Keren Cytter, Sound Objects show with music + video + circuit bending from Abstract Random, Lucky Dragons and Tristan Perich, Critical Mass by Kerry Tribe, a triple-play event featuring performances from Erik Bünger, Steve Kado, and Jodie Mack and more!
IMAGES ON SCREEN presents a wide range of work and disciplines—from formal experiments to innovative documentary, from films which address a range of political, feminist and a multitude of social and cultural issues over ten nights in over one hundred films + videos in 17 screenings. On Screen includes films by Robert Beavers, James Benning, Antoine Bourges, Simone Rapisarda Casanova, Lav Diaz, Beatrice Gibson, Jacqueline Goss, Laida Lertxundi, Alexandre Larose, Elke Marhofer, Monique Moumblow, Akosua Adoma Owusu, Lucy Parker, Lina Rodriguez, Chu-Li Shewring + Adam Gutch and Rizki Resa Utama and dozens more!
2012 Images Festival website with program details, schedules and ticketing:
www.imagesfestival.com
The Images Festival is thrilled to welcome curators, programmers and distributors. Complimentary accreditation is available to qualified members of the industry. Please use this link for the fillable application form and hotel partner information:
www.imagesfestival.com/festival.php?misc_id=5
2012 Images Festival is made possible thanks to our gracious public sector supporters:
The Canada Council for the Arts, the Department of Canadian Heritage, the Ontario Arts Council, the City of Toronto through the Toronto Arts Council, Telefilm Canada, the Ontario Ministry of Tourism and Culture, the Andy Warhol Foundation for the Visual Arts, the Ontario Cultural Attractions Fund, the Hal Jackman Foundation, the Harpo Foundation, the Goethe Institut Toronto, the Mondriaan Fund and the Consulat Général de France à Toronto.