Bosch Young Talent
Show (BYTS)
49 international artists from 15 Bosch cities
at BYTS 2011
17 September–16 October 2011
www.byts.nl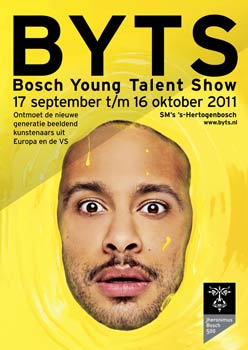 Bosch Young Talent Show BYTS draws international young artists to the Netherlands
49 promising, young visual artists from Europe and the USA show their work during the Bosch Young Talent Show (BYTS) at SM's – Stedelijk Museum, municipal museum -'s Hertogenbosch in the Netherlands. During the second edition of this international, contemporary art event from 17 September up to and including 16 October 2011, the young talents show their work, including paintings, sculptures, drawings, video art, collages and performances.
Unique concept with cutting edge talent
The BYTS concept is unique. The young artists are nominated by renowned scouts from the so-called Bosch cities, those are the cities that possess one or more works by the most famous mediaeval Dutch painter Jheronimus Bosch in a public museum collection. These scouts will make a cutting-edge selection from students and former students below the age of 30 from visual art academies in their own Bosch city. A challenging concept with an exciting and innovative result. These are young artists who, just like Jheronimus Bosch 500 years ago, are engaged in the further development of the imagery that renders present-day art its identity and character. BYTS offers them the possibility to present themselves on an international stage, true to the Jheronimus Bosch heritage.
Scouts from 15 Bosch cities will select 49 international artists
The scouts from the fifteen Bosch cities in Europe and the USA have selected the following 49 artists for BYTS:
Berlin: scout Gregor Schneider and artists Whats Chachkhiani, Keto Logua, Fiene Scharp; Bruges: scout Robert Devriendt and artist Louise Demoen; Brussels: scout Hans Op de Beeck and artists Thomas de Brabanter, Sarah and Charles, Renato Nicolodi; Frankfurt: scout Michael Krebber and artists Ruairiadh O'Connell, Oliver Heinzenberger, Stephen Suckale; Ghent: scout Gert Robijns and artists Gerben Gysels, Mandy van Goethem, Benjamin Verhoeven; 's-Hertogenbosch (the only Bosch city without work by Bosch), scout Thom Puckey and artists Dimensional Consultancy, Paulien Föllings, Stefany Karghoti, Gilly van Zanten; Lisbon: scout Julião Sarmento and artists Gabriel Abrantes/Katie Widloski, Gonçalo Sena, Isabel Simoens, André Romão; London: scout Ryan Gander and artists Aaron Angell, Robert Lye, James Ferris; Madrid, scout Fernando Sánchez Castillo and artists Esther Achaerandio, Núria Güell, Paloma Polo, Angel de la Rubia; New Haven: scout William Villalongo and artists Caroline Chandler, Abigail Deville, Troy Gene Michie, Kenneth Rivero; New York: scout Jon Kessler and artists Chris Jehly, Tracy Molis, Brie Ruais; Paris: scout Jean-Marc Bustamante and artists Anaïde Chirinian, Alexandre Désirée, Gabriel Desplanque, Manon Recordon; Rotterdam, Scouts Liesbeth Bik & Jos van der Pol and artists Giles Bailey, Sjoerd van Leeuwen, Arvo Leo; Venice, scout Maria Morganti and artists Martino Genchi, Caterina Rossato, Fabrizio Sartori, Serena Vestrucci; Vienna: scout Werner Reiterer and artists Ulrike Koenigshofer, Valentin Ruhry, Johannes Vogl
The most recent work by these young visual artists can be admired at BYTS 2011.
Summer school
In addition to the main exhibitions there are lectures and a 'summer school' will be organised for the artists, with visits to Dutch museums and exhibitions, among other things. That way BYTS offers an unobstructed view of developments and innovations in the visual arts all over the world.
BYTS will be held from Saturday 17 September up to and including Sunday 16 October 2011 in SM's – Stedelijk Museum 's Hertogenbosch in the Netherlands. Open Tuesday to Sunday from 12:00 to 17:00 hours. Current information on the artists and the programme can be found at www.byts.nl
Ouverture to 2016
BYTS is being organised the framework of Jheronimus Bosch 500, the multi-annual event around the most important Dutch mediaeval painter, Jheronimus Bosch. In 2016, the city of 's Hertogenbosch commemorates the fact that Jheronimus Bosch died there 500 years ago. That year will be the highlight of the event. As from 2010, every year there will be a specially compiled programme in which visual artists, film makers, art academy students, dancers, musicians, theatre makers, art historians, cultural institutions and individual citizens allow themselves to be inspired by the creativity of the famous Dutch painter. See www.bosch500.nl.