Barbara Kasten
Ineluctable
9 September–15 October 2011
Tony Wight Gallery
845 West Washington Blvd.
Chicago IL 60607
Gallery hours
Tuesday–Saturday, 11 AM–5 PM
T 312-492-7261
F 312-492-6796
[email protected]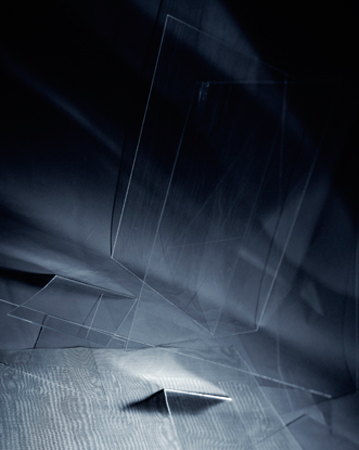 Tony Wight Gallery is pleased to present Ineluctable, an exhibition of photographs by Barbara Kasten. Kasten's newest series of abstract photographs records the consequential traces of light upon large-scale assemblages composed for the camera. Instead of using photography as record or reference, the physical object, which is the transparent Plexiglas plane, becomes immaterial. Light and shadow become the subject.
The work in this exhibition also includes works from the 1970s—unique cyanotypes, Polaroid's, and drawings on photographic paper. Through various photographic processes investigated over the last four decades Kasten shows a remarkable consistency of interest in challenging and experimenting with elements of transparency, color, light and structure.
As one of the preeminent photographers working today, Kasten continues to affect a recent generation in the exploration of the foundations of photography. Kasten's own interest in light developed out of the conceptual concerns of painting, sculpture and installation influenced by early exposure to the work of artists Robert Irwin and James Turrell.
Barbara Kasten (American, b. 1936) has exhibited her work nationally and internationally since the 1970s. She received her BFA in painting and sculpture from the University of Arizona in Tucson and her MFA from the California College of Arts and Crafts in Oakland. Kasten is the recipient of many prestigious awards including a Fulbright-Hays Fellowship, a Guggenheim Fellowship and a National Endowment for the Arts grant, and her work has been widely exhibited by major museums in the United States, Europe, and Japan. Her photographs are in the collections of the Art Institute of Chicago; International Center of Photography, New York; Metropolitan Museum of Art, New York; Museum of Modern Art, New York; the San Francisco Museum of Modern Art; the J. Paul Getty Museum; Museum of Modern art, Lodz, Poland; Museum of Contemporary Art, Los Angeles and Los Angeles County Museum of Art, among others. She lives and works in Chicago, IL.