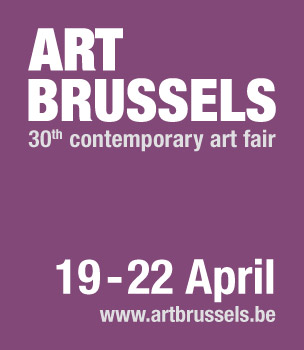 Art Brussels 2012
30th edition:
Thu 19–Sun 22 April 2012
Art Brussels, 30th edition and always innovating!
At the heart of Europe, Belgium is a cosmopolitan country where artists, collectors and curators live, create and meet. Talents from all these different cultures, practices and places give Brussels a unique dynamic.
Art Brussels aligns itself with a dynamic perspective that connects it to its city, its country and its time.
Some good reasons to visit Art Brussels
Meet with the collectors
This year a greater focus is placed on meetings with collectors.
Art Brussels invites Curator Samuel Gross to host a number of Art Talks in a new and informal format. These talks will concentrate on the passion for art of top collectors from Belgium and abroad. A totally subjective and altruist insight of the contemporary art world.
Meet with Hans Ulrich Obrist
Hans Ulrich Obrist will be the guest of Art Brussels on Thursday 19 April for a new unpublished interview.
Meet with the dynamics behind some major international 2012 cultural events.
Conferences will highlights the major cultural events of the contemporary art world, such as Manifesta, Documenta, Track, the Venice Biennale …
Among the guest are:
Defne Ayas (Witte de With, director), Catherine David (Curator), Ann Demeester (de Appel, Director), Corinne Diserens (Erg, Director), Jan Hoet (Yinchuan Biennal and Documenta IX, curator), Katerina Gregos (Manifesta, curator) Cedric Liénart de Jeugde (collector) , Dirk Snauwaert (Wiels, director), Mark Vanmoerkerke (collector) , … and more.
Discover the incredible energy of the Brussels contemporary art scene
In the city the Art Brussels partner institutions have made sure to present programmes that are both rich and stimulating.
Among which you will find:
Nicolas Provost at Argos, Marcel Berlanger at Le Botanique, Cy Twombly and Per Kirkeby at Bozar, Raymond Hains in the private collection of Eric Fabre, Rose-Marie Trockel and Daan van Golden at WIELS, , AES+F at the Vanhaerents Art collection,…
In addition the openings of new art spaces as Gallery cinema that in association with the Parisian cultural space the Temple will propose the last video work "The Host and the Cloud" by Pierre Huyghe or the Maison Particuliaire of Myriam and Amaury de Solage that brings together three private collectors around the central theme of "Struggle", or the collector Eric Fabre who will present—exclusively at the time of Art Brussels—a selection of his collection on this occasion, or the new contemporary art space C.A.B. Contemporary Art which will open its doors during Art Brussels, presenting work of a selection of Brazilian artists.
Art Brussels participating galleries
Consult the complete exhibitors list of the 30th edition of Art Brussels here.
Art Brussels 2012:
30th edition: Thu 19–Sun 22 April 2012
www.artbrussels.be
-20% on your ticket till 18 April here.
Opening hours:
Preview: Wed 18 April: noon-4 pm. (invitation only)
Vernissage: Wed 18 April: 4 -10 pm. (invitation only)
Exhibition: Thu 19–Sun 22 April: noon–7pm.
Nocturne: Thu 19 April: 7–10pm.
Venue:
Brussels Expo – Halls 1 & 3
Place de Belgique, 1
BE-1020 Brussels