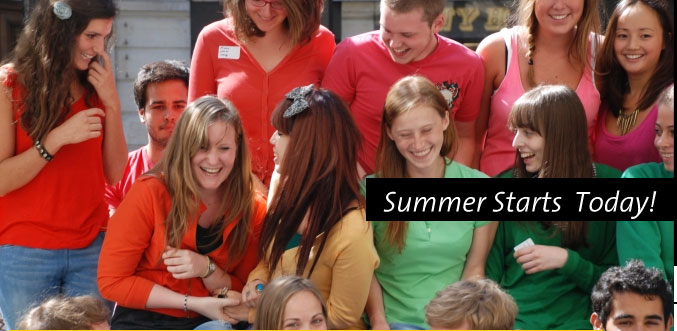 Paris College of Art
Art and Design Summer Programs in Paris
2 week program: July 1–July 12 &
July 15–July 26 2013
4 week program: July 1–26 2013
Paris College of Art
14, rue Letellier
75015 Paris France
The Summer Program at Paris College of Art offers an exciting set of courses with a modern edge in the historically and artistically rich city of Paris. In these two- or four-week courses, introductory through advanced level students will explore art, design, business, culture and language.
Eligibility
• Pre-college level: Must be at least 16 years old at the start of the program.
• Undergraduate + Adult level: Must be at least 19 years old at the start of the program.
• Professional + Adult level: Intended for individuals who have completed bachelor level studies and/or working professionals.
Dates
Two-week courses run from July 1 to 12 and July 15 to 26. Four-week courses run from July 1 to 26.
Courses
Areas of study include Critical Studies, Communication Design, Design Management, Fashion Design, Fine Arts, Illustration, and Photography. All courses are taught in English. As all courses are taught intensively; only one class may be taken at a time. Some undergraduate and adult-level courses will require independent student research and participation in group projects. These challenging assignments will allow students to gain an enhanced personal creative identity.
Faculty
The professors teaching in the Summer Program come from a variety of different backgrounds from across the globe and are professional artists and designers. This year PCA has also collaborated with professors from other esteemed institutions who will bring their experience and expertize to Paris, giving students the unique opportunity to study these subjects here.
Paris Setting
The faculty will guide students through the colorful streets and neighborhoods of Paris. Through fieldtrips to museums, studios, boutiques, and design organizations, students will take advantage of the abundant resources the city has to offer; Paris will serve as both a subject matter and a source of inspiration. Studio work, lectures, and independent research projects will allow students to develop new skills, refine their understanding of art and design, and create portfolio pieces for college or graduate school admissions.
For more information visit www.paris.edu or contact summer@paris.edu.
About Paris College of Art (PCA):
Founded in 1921, Paris College of Art (PCA) is a private university in Paris, France. The university is a degree-granting institution of higher learning under the authority of the State of Delaware and is accredited by the National Association of Schools of Art and Design (NASAD). PCA's mission is to provide the highest standard of art and design education, taught within an American pedagogical paradigm, while being influenced and informed by our French and European environment. Our international faculty is comprised of 100 leaders in the art, design, and business industries in Europe and courses are taught in English. PCA offers an interdisciplinary education for 300 full-time students coming from 50 different countries, and awards BFA degrees in Art History, Theory & Criticism; Communication Design; Illustration; Fashion Design; Fine Arts; and Photography as well as a BBA degree in Design Management. The university also offers study abroad, certificate, summer, and university preparation programs. Additional information is available at www.paris.edu.