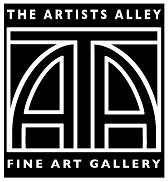 Hello,
Introduction In Brief ;
The 4000 sq feet gallery "The Artists Alley" is one of the largest galleries of Californian and international artists in SF, currently showing over 450 works of over 50 artists.We accept submissions on an ongoing basis and are interviewing artists for current and future shows. There is a nominal participation / showing fees. The shows are all juried shows of outstanding artists.
If you are interested in participating in a present or future shows please be kind enough to make an appointment to meet with our curatorial board.
Best regards
John Vila
Curatorial Board
www.TheArtistsAlley.com
—
The Artists Alley Gallery
863 Mission (Across Bloomingdales)
Between 4th & 5th
Downtown San Francisco – 94103
Tel:415 522 2440
www.TheArtistsAlley.com
Receptions : http://picasaweb.google.com/TheArtistsAlley