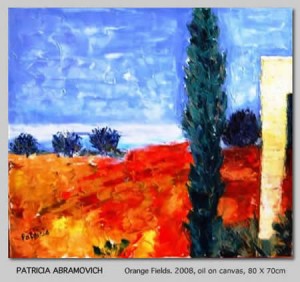 As a very active artist, Patricia Abramovich is preparing for exhibitions in France, Canada and Florida (USA). First however, you can view her works at the Florence Biennale at the Fortezza da Basso, Florence, Italy from December 5th to the 13th.
Born in France and now living in Israel, Patricia has spent the last year producing new important works, preparing for upcoming exhibitions and continuing her artistic research. This artist is devoted to the exploration of color. Her newest works reveal a growing tendency toward a more abstract use of color.
In her need to 'feel' the colors she has put aside her brushes and now uses various spatulas to apply a thick layer of color which adds texture and depth to her works. She has developed a courage and boldness in her relationship with color and this translates into works which are filled with an energy that comunicates the emotive aspects of pure color.
"Patricia Ambramovich is such a unique and innovative painter, using knives instead of paint brushes. I like her solid strokes and the bright colors that define each and everyone of her awe-inspiring works. Her wide spectrum of topics, from nature and landscapes, to abstract and still life, and her varying styles of abstract, expressionism and original painting touches the mind, heart, and senses and brings them to greater heights." Private Collector
by