The Bakersfield Museum of Art to show "Bay Area Figuration"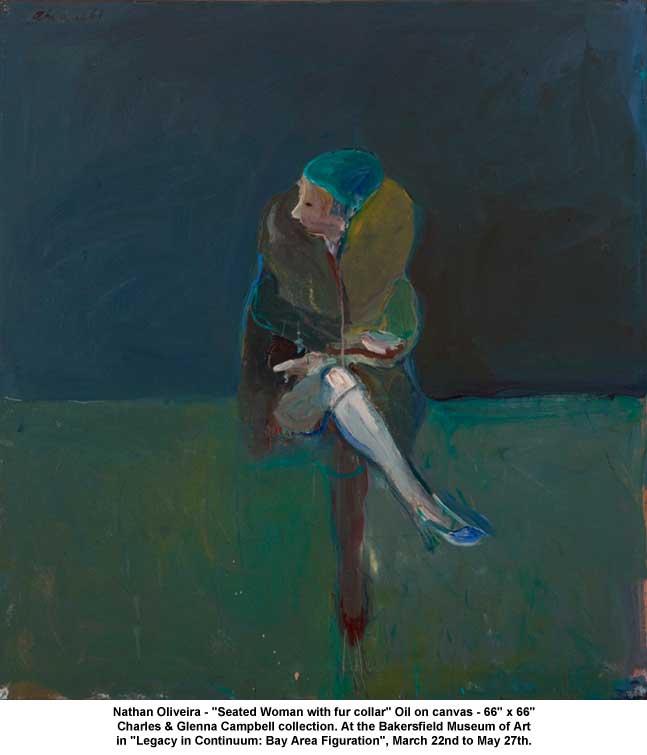 Bakersfield, California. The Bakersfield Museum of Art kicks of its Spring Exhibition on March 22nd with three dynamic shows highlighting an influential and relevant-to-today artist movement, Mark Harrington, a German based artist with Bakersfield roots and a unique collection of hand-crafted vessels from Californian craftsmen. The artists in the first of these, "Legacy in Continuum: Bay Area Figuration", on view from March 22nd through May 27th are creative talents, past and present working in a style noted for its timing and importance to the art world.
After World War II, artists working in New York began to shift their school of thought from figurative painting to non-objective works with unconventional tools concerned more with expression than construction. Figurative work had become passé. As a possible response to this movement, artists in San Francisco began to deconstruct the figure rather than destroy it completely. Participating Artists include: Eduardo Alvarado, Suhas Bhujbal, Elmer Bischoff, Joan Brown, Richard Diebenkorn, Kim Frohsin, John Goodman, Dennis Hare, Mitchell Johnson, Waldemar Mitrowski, Nathan Oliveira, Siddharth Parasnis, Brook Temple, and Paul Wonner.
The Bakersfield Museum of Art began as the Cunningham Memorial Art Gallery in 1956 with a donation from the Walter Osborn family who desired to establish an art gallery in memory of their daughter Marion Osborn Cunningham (1911-1948). Their considerable donation was amplified by the generosity of caring individuals who provided the building blocks for the gallery to be constructed on city land. Upon its completion, the Gallery was given to the City to be operated by volunteers of the Bakersfield Art Association and a City appointed Art Commission. The voluntary association administered the gallery highlighting works of local artists with occasional visiting exhibits. The name change to the Bakersfield Museum of Art occurred in 1990 with establishment of the Bakersfield Art Foundation as the independent governing agency. Just one year later the Museum gained important national status with accreditation from the American Association of Museums. Following major endowments from the Patricia Crail Brown Foundation and the late Dr. George and Millie Ablin, a capital campaign to expand the Museum began in earnest in 1997. In June of that same year, the Foundation purchased the building and land from the City of Bakersfield and launched the project that expanded the museum to 17,400 square feet. In February 2001, the beautiful new Bakersfield Museum of Art proudly opened its new doors to the community. Visit the museum's website at … http://www.bmoa.org