Art Classes at the National Academy School‏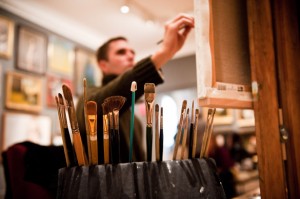 National Academy School
Art Classes at The National Academy School
Register Now – Classes Begin April 2
Painting, Drawing, Sculpture, New Media, Printmaking, and Art Theory
5 East 89th Street, New York, NY
T 212 996 1908
Under the guidance of dedicated artists and teachers, New York's National Academy School offers studio-based classes in painting, drawing, printmaking, sculpture, new media, and art theory. Students work in an intimate and exceptional learning environment in spacious, sky-lit studios. Workshops, lectures, and panel discussions, enrich the experience at the Academy.
For an intensive, two-year art education, join the Academy's new Studio Art Intensive program, designed to enhance creativity and artistic achievement, ideal for artists, post-BFA study, international students, and arts educators. Students will develop a professional portfolio, be mentored by an artist, experience the arts scene in New York City, and will culminate their study with a solo exhibition and catalogue.
For more information, visit: www.nationalacademy.org/art-school/ or e-mail schoolinfo@nationalacademy.org.